(CNN) -- Federal authorities said Thursday they have seized some of an Ohio company's supplies of contaminated blood thinner containing material from China.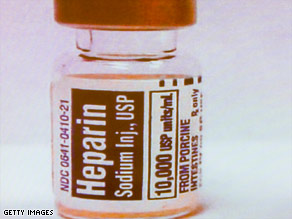 Heparin is an injectable drug used prevent harmful clots from forming in blood vessels.
U.S. marshals, acting at the request of the Food and Drug Administration, seized 11 lots of heparin from Celsus Laboratories Inc. of Cincinnati, the agency said in a news release.
"This action will help prevent this contaminated heparin from finding its way into the marketplace," said Mike Chappell, the FDA's acting associate commissioner for regulatory affairs, in a news release.
The lots were contaminated with over-sulfated chondroitin sulfate (OSCS), a substance that mimics heparin's anti-clotting activity, the agency said.
Thursday's report is the latest concerning heparin safety. Earlier this year, shipments of other lots of contaminated heparin were traced from China to 11 countries, including the United States.
In all cases, investigators identified OSCS -- a compound made from animal cartilage -- as the contaminant that was linked to hundreds of serious adverse events, including allergic reactions causing nausea, vomiting, shortness of breath, a severe drop in blood pressure and death.
Five of the lots seized Thursday were heparin sodium active pharmaceutical ingredient, used in finished drug products. Six were heparin lithium, used in medical devices, the agency said.
The seized material entered the United States prior to the establishment this year of import controls, the agency said.
The FDA advised manufacturers who may have bought heparin from Celsus to contact the company to ensure they do not have products that have been recalled.
In an e-mail to CNN, Celsus President Case Van Gorp said the lots had been quarantined at the company at least since April.
After learning about the potential contamination on March 8, the company notified its customers and quarantined the suspect product, he said.
The FDA inspected the Cincinnati facility from April 15 through May 15 and, "since then, no presence of OSCS has been identified in our products," he said.
But the FDA said it told Celsus in April and May "that the company's actions to notify customers about a contaminant in its heparin were insufficient to assure an effective recall."
It said it has notified Japanese, Canadian, Australian, European Union, and other international authorities of its concerns.

E-mail to a friend

All About Food and Drug Administration • Cincinnati