WASHINGTON (CNN) -- Letters containing white powder that were sent to more than 50 financial institutions warned that "it's payback time," the FBI said Thursday.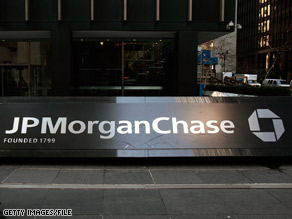 Officials said most of the powder-laced letters were sent to branches of JPMorgan Chase.
"Steal tens of thousands of people's money and not expect repercussions. It's payback time. What you just breathed in will kill you within 10 days. Thank [word redacted] and the FDIC for your demise," said one letter released by the FBI on Thursday.
Most of the letters contained a powder that the FBI said is harmless.
But sending the letters is "a serious crime," even if they are a hoax, FBI spokesman Richard Kolko said in a statement.
More than 50 letters were received this week at financial institutions in 11 states and the District of Columbia, the FBI said.
The letters were all sent from Amarillo, Texas, to branches of Chase Bank; the Federal Deposit Insurance Corp., which insures bank deposits; and the U.S. Office of Thrift Supervision, a regulatory agency. Not all the letters contained exactly the same wording, the FBI said.
The U.S. Postal Inspection Service is offering a reward of up to $100,000 "for any information leading to the arrest and conviction of the person or persons responsible."
Don't Miss
The FBI, U.S. postal inspectors and state and local authorities are investigating, resulting in "a drain on resources" for those agencies, Kolko said.
"Law enforcement will continue to work to identify and arrest those responsible," Kolko said .
As of Thursday, financial institutions in New York, New Jersey, the District of Columbia, Ohio, Illinois, Colorado, Oklahoma, Georgia, Texas, Virginia, California and Arizona have received the letters, the FBI reported.
Kolko said that field tests on the powder included in the letters have found no sign of a hazardous material but that additional tests were being conducted.
Most of the letters have been sent to branches of JPMorgan Chase, one law enforcement official said on condition of anonymity because the investigation is ongoing.
E-mail to a friend

CNN's Kelli Arena and Kevin Bohn contributed to this report.
All About Federal Bureau of Investigation • JP Morgan Chase & Co. • U.S. Postal Service • Federal Deposit Insurance Corporation