From Terry Frieden
CNN
WASHINGTON (CNN) -- The number of banks and other agencies reporting that they have received angry letters containing a powdery substance has risen to 45 in 11 states, and there could be more cases, FBI officials said Wednesday.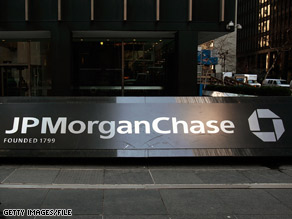 Officials said most of the powder-laced letters were sent to branches of JPMorgan Chase.
Wednesday's count is up from the 30 in eight states that were reported Tuesday.
The FBI, U.S. postal inspectors and state and local authorities are investigating, causing what FBI spokesman Richard Kolko called "a drain on resources" for those agencies.
"Even sending a hoax letter is a serious crime, and law enforcement will continue to work to identify and arrest those responsible," Kolko said in a statement. "The FBI and our law enforcement partners are following up on numerous leads, and if anyone has information, they are requested to contact the FBI, USPIS or local authorities."
Postal inspectors offered a reward of up to $100,000 for information leading to the conviction of those behind the hoax letters, which they said were mailed late last week.
As of Tuesday, financial institutions in New York, New Jersey, the District of Columbia, Ohio, Illinois, Colorado, Oklahoma, Georgia and Texas had been targeted by the letters. Wednesday, that list had grown to include Virginia, California and Arizona, the FBI reported.
Don't Miss
Kolko said that field tests on the powder from the letters have found no sign of a hazardous material but that additional tests were being conducted.
The letters contained a message of anger concerning the "banking situation," one law enforcement official said on condition of anonymity because the investigation is ongoing.
The official said most of the letters have been sent to branches of JPMorgan Chase.
Two other officials said all the letters were postmarked in Amarillo, Texas. And not all of the recipients were banks, officials said.
Letters were also sent to the offices of the Federal Deposit Insurance Corporation and the Office of Thrift Supervision, federal agencies that oversee financial institutions.
E-mail to a friend

CNN's Kevin Bohn and Kelli Arena contributed to this report.
All About Federal Bureau of Investigation • JP Morgan Chase & Co. • U.S. Postal Service • Federal Deposit Insurance Corporation