By Jim Kavanagh
CNN

(CNN) -- Conservative lending practices seem to be a common denominator among banks that have remained strong and stable during the current banking crisis, and those banks are still making loans.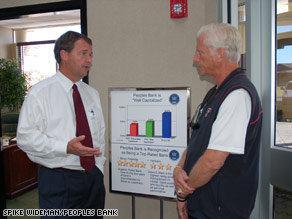 Peoples Bank President Todd McKee, left, chats with customer Tommy McVay on Friday in Lubbock, Texas.
The failures of behemoths such as Washington Mutual and IndyMac have drawn media attention, but not all big banks are in trouble -- and smaller banks are not immune.
According to the Federal Deposit Insurance Corp., 15 banks have failed in 2008, ranging from giant WaMu, with $188 billion in total deposits, to tiny Hume Bank in Hume, Missouri, with total deposits of just $13.6 million.
Only three banks failed in 2007, and none in 2005 and 2006, according to FDIC records.
"We're open for business, and we're making loans for qualified applicants," said Therese Myers, spokeswoman for Keybank, a Cleveland, Ohio, bank with branches in 15 states and total deposits of $61 billion.
It's the same story at much smaller State Bank of Southern Utah, whose 15 branches hold $500 million in total deposits.
"Our underwriting standards have tightened a little bit," said Ronald Heaton, president of the Cedar City, Utah, bank. "... Our standards haven't changed drastically, and we're still loaning ... but we're watching our underwriting standards closely so that people are able to repay their loans."
Don't Miss
Most of the bank's lending is for purchases of land and to provide cash for small businesses. It sells virtually all its mortgages to the Federal Housing Administration or Fannie Mae, Heaton said.
Mortgages that didn't require borrowers to prove their income or make a down payment got many lenders into trouble, but his bank never offered those: "Didn't make sense," he said.
Some would-be borrowers "wanted us to do everything, and we said, 'We don't do everything. We have standards,' " Heaton added.
Nonbank mortgage lenders were able to generate substandard mortgages because they were not adequately regulated by the federal government, Heaton said.
Now those bad loans have come home to roost, the nonbank lenders are out of the game, and State Bank of Southern Utah's mortgage business is picking up, Heaton said.
However, the bank's core business of lending for land development and small businesses has slowed with the economy, he said.
"We're working through those, but we don't have terrible dealings in that area because we required a lot down and we know the people we deal with. They're all local people, and most of them had good equity into their projects," Heaton said.
"But as time goes on, if the economy doesn't pick up, some of them will have problems, but we think we can work those out."
Lax regulation and irresponsible lending led to the current crisis, Heaton said.
"I'm irate over the whole thing," he said. "... I just know it's a mess, and we're not the cause, but we're going to have to pay for it."
In Texas, the state Department of Banking says state-chartered institutions wisely stayed out of the subprime game.
"That's not what we do. We're not in the subprime market whatsoever," said Todd McKee, president of Peoples Bank in Lubbock. "Lending here is the same as it's always been."
The way it's always been is up close and personal. McKee said his bank's customers prefer to do business with tellers face-to-face rather than through the drive-up window.
"I'm president of the bank, and I sit right by the front door, so I wave at every single soul that walks in the bank. Everybody has access to me," he said. "My partner [Larry Allen] is the CEO. ... He sits at the other door. So we know everybody that comes in the door.
"You're going to hear every bank say that they're relationship bankers. You're not unless you know your folks."
One of those folks is Ronnie Bilbo, president of RPS Solutions, a manufacturing company. He has been a Peoples Bank customer since it opened in 1999.
"The main difference is just the people," Bilbo said. "I mean, you can't hardly get out of that bank without having people stop you and shaking your hand, making you feel like you're wanted, and that's pretty unusual to me in these banking times."
Peoples Bank, with total deposits of about $180 million, is not tightening credit standards, but "we're going to be picky about who we loan to. But we always have been," McKee said.
Bilbo can attest to that. Despite his status as a large and established customer, the bank takes a hard look at his books every time he seeks a loan: "Definitely not a free pass," he said.
"But at the same time, you know, it's probably the best thing for our business because we've got somebody pushing us to do the right thing and stay on top of things."
On the other hand, once when Bilbo ran into a cash-flow problem, McKee and Allen came to his office to work out a plan, he said.
"They basically treated us like a partner and said, 'We're going to work through this deal,' and we were able to do it, I'm thankful to say. ...
"And you could tell that they were concerned, not just because we were a customer, but I think they cared about us as a business and our families and everything else."
Banks that work closely with their customers always have an advantage, McKee said.
"The community bank is the backbone of banking right now. I think you're going to see a lot of us stay around where the other boys won't."
McKee's bank goes through a cash-flow scenario with every borrower to make sure the loan is feasible.
"You can look at credit all day, you can look at collateral, but if they can't make that payment, there's no sense in making that loan. And we've always done that. We're all supposed to do that."
E-mail to a friend

All About Consumer Credit and Debt • Subprime Lending • Federal Deposit Insurance Corporation