From Susan Roesgen
CNN

CHICAGO, Illinois (CNN) -- An Illinois sheriff said Thursday he'll soon resume evictions at foreclosed properties after reaching a deal that he says will keep "innocent tenants" from being victimized.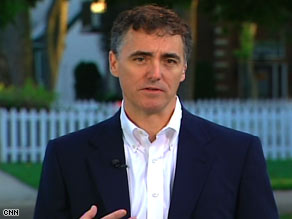 Cook County, Illinois, Sheriff Thomas J. Dart said last week he was trying to protect some renters.
Sheriff Thomas J. Dart had suspended evictions last week in Cook County, which includes Chicago. But he said they will resume Monday, adding that a deal between his office and a local chancery court is "bringing sanity" to the eviction process.
"Innocent tenants [will no longer] be victimized by an uncaring, reckless system," Dart said.
Dart said October 8 that he was suspending all foreclosure evictions to protect some renters whose landlords were behind on mortgage payments. He said some renters were paying their rent on time and weren't receiving proper notice of the evictions.
He also said mortgage companies routinely failed to do something they were supposed to: identify a building's occupants before asking for an eviction.
On Thursday, Dart said evictions will resume Monday with the following conditions:
• The bank holding the mortgage must provide a court with a detailed description of the building and names of all occupants at the time of the initial foreclosure filing.
Don't Miss
• Before the entry of an eviction order, banks must provide a date that bank representatives last inspected the property.
• Banks must prove that they informed tenants of a 120-day grace period, which state law grants to allow tenants to find new housing before moving out.
Dart also said he will hire a full-time social worker to help evictees find alternative housing and connect them with community social services.
When Dart announced the suspension last week, Cook County was on track to reach a record number of evictions, many due to mortgage foreclosures.
Foreclosures in the Chicago area have tripled in the past two years, according to the sheriff's office. In 2006, 18,916 cases were filed in Cook County; this year's total is expected to exceed 43,000.
The Illinois Bankers Association last week criticized Dart's decision to suspend evictions, saying Dart "was elected to uphold the law and to fulfill the legal duties of his office, which include serving eviction notices."

E-mail to a friend

All About Illinois • Cook County