NEW YORK (CNN) -- New York City's economy is on track to lose almost twice the amount of private-sector jobs than originally expected, according to an unemployment forecast Wednesday.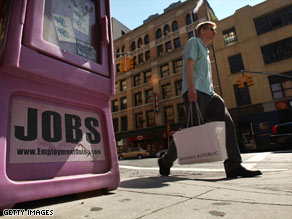 As many as 165,000 jobs could be lost in the next two years in New York City, according to a report.
The job loss is a result of recent developments in the ongoing financial crisis.
Up to 165,000 private-sector jobs could be lost over the next two years, according to the report from the city's chief economist and released by the city comptroller's office.
Of those, 21 percent -- or 35,000 -- are expected to come from the financial sector.
The U.S. economy lost 600,000 private jobs in the period between August 2007 and August 2008, according to the U.S. Bureau of Labor Statistics. But New York City actually added 31,000 private sector jobs in that time.
Today's unemployment forecast was revised upward from a previous city budget estimate released last July that said a total of 85,000 jobs could be lost by 2010.
The July estimate pegged job losses in the financial sector at 25,000.

Watch how New York City dwellers are saving money »
"What's been happening to the rest of the country may have finally caught up with us," said New York City Comptroller William Thompson, pointing to the credit crunch as the catalyst for the negative forecast.
"The credit crunch has affected every sector in different ways -- the small grocery store that can't get credit, the small or midsized retail store that's having problems, those that can't get mortgages."
Even with the worsening economic news, Thompson said he remains mostly optimistic.
"Go back to previous recessions like May 1990 to November of 1992 when we lost almost 350,000 jobs, or the after effects of 9/11 and the dot-com bust, where we lost 225,000 jobs," he said.
"The one thing we learned is that we bounce back stronger than ever before."
E-mail to a friend

CNN's Miguel Susana contributed to this report.
All About New York City • National Economy