(CNN) -- Evangelist Billy Graham has returned home from a brief hospitalization after he tripped and fell over one of his dogs at his home in western North Carolina, his personal physician said.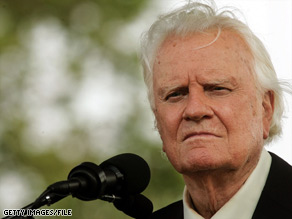 Evangelist Billy Graham, pictured in 2005, has suffered a number of physical ailments.
Graham, 89, was released from a hospital Saturday afternoon and expected to fully recover from the fall, Dr. Lucian Rice said in a statement.
Graham, who fell Friday, did not break any bones, Rice said.
"Of course we worry any time a patient takes a fall, especially an older patient," Rice said. "But while Mr. Graham is somewhat bruised, with some extremely sore muscles, he seems to have suffered no serious injuries. ... I am encouraging him to remain as active as possible, but to be mindful of his dog, who likes to keep faithfully at his feet."
Doctors evaluated Graham late Friday, and the Southern Baptist minister chose to stay overnight because of the late hour, according to a statement from Mission Hospital in Asheville, North Carolina.
"According to his nurses, Mr. Graham had an uneventful night and was able to sleep," the hospital's statement read.
In February, Graham had elective surgery to replace a shunt that maintains normal pressure in his head, the hospital said. The shunt was installed in 2000 to combat symptoms of hydrocephalus, a condition that causes a buildup of fluid on the brain, according to Graham's Web site.
Graham also has faced prostate cancer and Parkinson's disease. He underwent hip replacement surgery after fracturing his pelvis in a fall in 2004.
Graham, founder of the Billy Graham Evangelical Association, has preached to millions over six decades, and has provided counsel to generations of U.S. presidents, beginning with Harry S. Truman.
He will celebrate his 90th birthday November 7.
E-mail to a friend

All About Billy Graham • North Carolina