By Jason Hanna
CNN

ATLANTA, Georgia (CNN) -- After several minutes talking about the U.S. economy, Shanika Ross was in tears.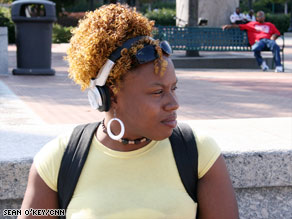 Shanika Ross, of Atlanta, Georgia, fears "there's no way you can fix this amount of damage to our economy."
This wasn't because the value of the 401k she built at a previous job has dropped -- she's only 25, and doesn't know how exactly much she's lost -- and it wasn't just because she wonders about the stability of her bank amid news of bank failures.
It was a combination of all the bad economic news -- the stock market drop, the credit market freeze, the housing crisis -- and because, she says, she's a nurse having trouble finding a nursing job, despite growths in such jobs nationwide.
The news and her situation are weighing heavily on Ross, an engaged-to-be-married mother of three who is working at a Red Lobster in Atlanta, Georgia. She said she has sold furniture, mementos and clothes to pay rent.
And -- without being asked about the D-word -- she said she worries the U.S. is headed toward an economic depression.
"We're three steps away from being on the street," said Ross, her eyes welling as she watched her oldest child, a 10-year-old boy, play near a fountain Monday at Centennial Olympic Park in Atlanta. "It doesn't matter who gets into office. We don't win."

Watch how young voters are worried about the economy »
Economists generally don't believe that a depression is likely, but Ross isn't alone in her despair. A CNN/Opinion Research Corp. poll released Monday found that among 1,000 Americans surveyed over the weekend, nearly 60 percent said a depression is at least somewhat likely.
To define economic depression, the poll cited measures of the Great Depression of the 1930s: a 25 percent unemployment rate; widespread bank failures; and millions of Americans homeless and unable to feed their families.
Jim Whipp, a 55-year-old Coloradan visiting Atlanta on Monday, didn't mention depression when asked about the economy, but said he was worried about retirement.
Whipp, who does DSL installation and maintenance for Qwest Communications, said he had put more than 25 percent of his pay into his 401k from mid-2006 to the end of November 2007, when his wife was laid off from her job.
Falls in the stock market erased all of that, he said.
"Everything I put in the last two years are gone," said Whipp.
He had planned to retire in two to three years. But now, even though his wife has been rehired, retirement probably is seven or eight years away, he said.
Greg Olsen, a partner with New York financial services firm Lenox Advisors, said his advice to investors in the face of the distressing economic news depends on how much time and money they have.
"It's the person who has the lesser amount of money to invest that we worry about because they can't afford to have these types of losses," he said.
But he said now "is not the time to make any rash decisions" for anyone whose retirement is more than 10 years away.

Watch Olsen talk about his advice to investors »
"Long term, the stock market has always been the best place to be," Olsen said.
Mica McPheeters, 28, would agree. The graphic designer from Jacksonville, Florida, said she is concerned because her IRA and 401k have taken hits, but she won't pull her money.
"My outlook on investment is long-term. Even though we have ups and downs, in general, we come back up," she said.
She said she has taken the approach of a personal finance teacher she had in college.
"His whole thing was: 'Don't be in it for the ups and downs. You'll just get stressed out,' " McPheeters said Monday in Atlanta, which she was visiting.
But McPheeters has temporarily stopped putting money into her retirement accounts. She said she'll probably resume her contributions "after whoever is elected [president] gets in and things settle down."
President Bush, speaking Monday in Cincinnati, Ohio, said, "I believe in the long run this economy is going to be just fine.
"It's a resilient economy; it's a productive economy with good workers. This is a reminder that we have been through tough times before, and we're going to come through this just fine."
But Ross is concerned the United States won't find a fix. She said she is worried about the government spending $700 billion on an economic bailout plan even as it spends billions on two wars.
"There's no way you can fix this amount of damage to our economy," she said.
E-mail to a friend

CNNMoney.com's Chris Isidore and CNN's Deb Feyerick contributed to this report.
All About Atlanta • National Economy • Jobs and Labor