(CNN) -- A bone fragment found in the area where Steve Fossett's plane crashed will be tested to determine whether it came from an animal or a human, a Madera County, California, sheriff's spokeswoman said Friday.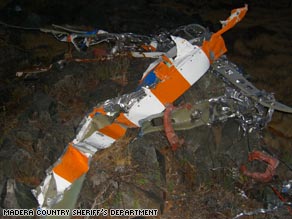 The wreckage of adventurer Steve Fossett's plane was found in California's Sierra Nevada on Thursday.
Erica Stuart said the piece was about 1 inch by 2 inches and had been sent to a state Department of Justice lab for examination.
With 2 feet of snow in the forecast, searchers, some with dogs, walked through crash debris strewn for hundreds of feet on a steep Sierra Nevada mountainside to gather more possible evidence, she said.
Mark Rosenker, acting chairman of the National Transportation Safety Board, said pieces of the aircraft will be taken to a secure facility in Sacramento where investigators will reassemble as much as they can.
"That's where we will begin doing our detailed examination next week," he said.
"We actually lay out the parts and begin the process of making sure we have all of the aircraft," he said, including the wings, engine, propeller, stabilizer, control panels and fuselage. That way, investigators might know if something broke off and contributed to the accident, he added.
"I don't want to count the number of pieces there are -- lots of pieces. It's an accident that's consistent with a high-energy impact, which means the aircraft was moving at great speed," Rosenker said.
Don't Miss
A staff meteorologist is to study weather conditions on the day of the crash.
Rosenker said there are indications that the plane hit the mountain at a mostly horizontal angle.
The wreckage was discovered Wednesday night at an elevation of about 10,000 feet in the Sierra Nevadas near Mammoth Lakes, after a hiker reported finding identification cards with Fossett's name.
Fossett was last seen on the morning of September 3, 2007, when he took off from the Flying-M Ranch outside Minden, Nevada. He was scouting locations for an attempt to break the land speed record in a rocket-propelled car.
Fossett made his money in the financial services industry but became renowned for his daredevil exploits.
He was the first person to circle the globe solo in a balloon, accomplishing the feat in 2002, and the first to fly a plane around the world solo without refueling, which he did three years later. He also set world records in round-the-world sailing and cross-country skiing.
Fossett's wife, Peggy, issued a statement Thursday saying that, given the crash site discovery, she hoped "to bring to closure a very painful chapter in my life. I prefer to think about Steve's life rather than his death and celebrate his many extraordinary accomplishments."
"I am anxious to learn of the circumstances and cause of this tragic accident from the official report of the NTSB. I want to take this opportunity to thank all the people who have contacted me over this past year with kind thoughts and well wishes."
E-mail to a friend

All About Steve Fossett • U.S. National Transportation Safety Board