MAMMOTH LAKES, California (CNN) -- A small amount of human remains has been found in the wreckage of the plane that adventurer Steve Fossett was flying when he disappeared last year, a National Transportation Safety Board official said Thursday.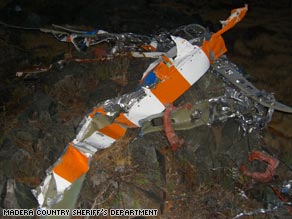 The wreckage of adventurer Steve Fossett's plane was found in California's Sierra Nevada on Thursday.
A search team that was examining the wreckage, which was found Wednesday at an altitude of about 10,000 feet in the Sierra Nevada near Mammoth Lakes, found "very little" remains among the debris, acting NTSB Chairman Mark Rosenker said.
Asked whether the remains were enough for an identification, Rosenker said, "I believe the coroner will be able to do some work."
Earlier Thursday, Madera County Sheriff John Anderson said the single-engine Bellanca appeared to have crashed into the side of a mountain in the Sierra Nevada in eastern California, and the damage was "so severe I doubt someone would've walked away from it."

See a map of the crash site »
Fossett was last seen the morning of September 3, 2007, when he took off from the Flying-M Ranch outside Minden, Nevada, on what he said would be a pleasure flight over the Sierra Nevada.

Watch how searchers located the wreckage »
Investigators homed in on the area near Mammoth Lakes on Wednesday after hikers there found a sweatshirt, cash and identification cards with Fossett's name.
The hikers did not find any wreckage; an aerial search discovered the airplane parts about a quarter-mile away, Anderson said.
Ground crews confirmed Wednesday night that the wreckage was Fossett's plane. The sheriff said authorities were not certain whether the cash and sweatshirt belonged to Fossett.
The engine was about 300 feet higher on the mountain than the fuselage and the wings, Anderson said.
An NTSB team arrived Thursday to investigate the crash. Rosenker said investigators, based on examinations of the debris, believe that the plane struck the mountain horizontally but not necessarily head-on.
It may take "weeks, perhaps months to have a better understanding of what happened on that mountain that day," he said.

Watch NTSB say crash was "nonsurvivable" »
Fossett's disappearance prompted a search that ultimately included thousands of volunteers, hundreds of officials and dozens of aircraft poring over an area more than twice the size of New Jersey.
The search was officially suspended a year ago Friday, and a Chicago probate court judge declared Fossett dead in February.
Fossett made his money in the financial services industry but became renowned for his daredevil exploits. He was the first person to circle the globe solo in a balloon, accomplishing the feat in 2002, and the first to fly a plane around the world solo without refueling, which he did three years later. He also set world records in round-the-world sailing and cross-country skiing.

Browse a list of his achievements on land, sea and air »
E-mail to a friend

CNN's Chuck Afflerbach contributed to this report.
All About Steve Fossett • Sierra Nevada