By Eliott C. McLaughlin
CNN
NEWNAN, Georgia (CNN) -- Plenty of patrons are still eating at Redneck Gourmet, but restaurateur Casey Smith said the reeling economy has also stopped in for a bite.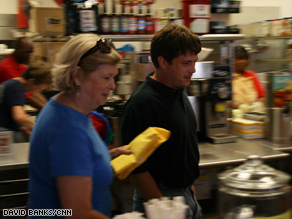 Casey Smith, right, and his mother, Cile, take orders Tuesday at Redneck Gourmet in Newnan, Georgia.
Sales generally mirror profits at the popular Newnan, Georgia, eatery, located across from the county courthouse on the town square. But Smith said that isn't the case lately: Sales are up 9 percent over last year, but profits have jumped only 4 percent.
"The economy definitely has started showing its face around here," he said, explaining there's also been a lull in his catering business.
In recent months, Newnan has seen corporate giants like Chili's and T.G.I. Friday's close their doors locally, and Smith said he's heard fellow business owners complain that times are tough.

See the Redneck during lunch rush »
Smith said he's not impervious to the economic tumult, but there are factors that keep Redneck Gourmet swimming while other businesses tread water or drown.
For one, the restaurant is no stranger to celebrity. It has drawn the likes of country music star Alan Jackson, comedian Jeff Foxworthy, Atlanta Falcons linebacker Keith Brooking and former Atlanta Braves pitcher Steve Bedrosian.
Redneck Gourmet also keeps a steady stream of regulars, and Smith's family plays an integral role in keeping sales up for the Redneck's homemade sandwiches, desserts and "good ol' Southern breakfast."

Watch how small businesses are gauging the economy »
Smith, 33, took over the folksy eatery in 1999 from his father, Mike, who established it in 1991. His mother, Cile, who lives in an apartment above the restaurant, makes the house egg salad.
Smith's wife of eight years, Melissa, helps with operations at the Newnan store, as well as the franchise in nearby Senoia, another far-flung Atlanta suburb.
Don't Miss
Smith opened the Senoia location in March and concedes it may not have been the best time to open a restaurant, but the growth and established homeowners in the area are good for business.
There were plans for more franchises in the next year to 18 months, but Smith now has a keen eye on the economic climate.
"Obviously, the economy is not going to make it any faster. I'm going to hold out until things pick up a little bit before I decide to go into any more ventures right now," he said. "If the economy is still slow, I will continue to push that back. The last thing you want to do is open a restaurant that fails."
Small-business owners like Smith demonstrate that plenty of people are finding ways to stay afloat as Wall Street's mayhem drives the world's headlines.

Watch how the American dream is taking a beating »
Lauren Burger and Justin Feezell, of Bellingham, Washington, are part of that club. The couple opened The Handmade Life, a craft shop and art gallery, last week.
Asked if it was the best time to open a shop, Feezell said business was going well and he expects to make about $90,000 in the first year. Both plan to work at the shop full-time.
"In any economic climate, you hear that 75 percent of businesses fail within two years, and that's even higher for restaurants, so I guess to a certain extent you're nuts no matter when you do it," he said.
As with Smith, outside factors have helped buffer the soon-to-be-wed couple from the economic downturn.
Several years in the Peace Corps have taught the couple to be frugal; they're an outdoorsy duo who prefer bike rides to nights at the movies.
Feezell's family has owned galleries before, so he understands the market, he said, and Burger has sold handmade bath and beauty products online for some time.
The Handmade Life also has a low overhead. Local artists provide the bulk of the consignment store's inventory, and there's plenty of foot traffic from tourists coming in from the Alaska ferry landing, about 200 yards from store's front door.
"And our focus is on more affordable items here, so there are lots of smaller crafters and people who make creative things, and when they hear about an outlet to sell them, they're all for it," Feezell said, adding that most of the store's items sell for less than $100.
Erik Claesson has affordable inventory as well -- popcorn -- but he has seen harder times than Smith or Feezell.

Watch Claesson talk of tough times »
His Madly Pop'n in Oak Park, Illinois, ran through its $30,000 line of credit over the summer -- the lean time for his store. Exacerbating finances is that he banks with Washington Mutual, which JP Morgan Chase took over last week.
He hasn't asked for more credit, he said, because he doesn't think the failed bank is eager to dole out cash.
"We've been squeezing through, and like a lot of business owners, I'm the first one who doesn't get paid if there isn't enough money," he said.
However, the holidays are the prime time for selling gourmet and candied popcorn, and Claesson hopes to see his ledger rebound in the coming months, which generally account for 70 percent of his annual business.
"You suck it up in the bad times and take advantage of the good ones," he said. "It's tough times, and you don't know what the holidays are going to bring. Check with me on December 23."
But Wall Street isn't Claesson's only problem. Rising dairy prices have pushed up the price of butter, and corn prices have spiked because of flooding in the Midwest.
Back in Georgia, Smith, too, said he feels the pinch from rising food costs. When corn prices go up, so do the prices for animal feed, which push up the cost of beef and poultry. He is also seeing the effects of the July minimum wage increase, to $6.55, and the rising cost of gas.
"Most of the stuff we sell is commodity items -- so it's beef, produce, a lot of things that are affected by fuel," Smith said.
The price of oil has other ramifications, Smith and Claesson said.
"People have to drive. They've got to drive here to eat. My employees have to drive here to work. My vendors have to put stuff in a truck and drive it here," Smith said. "Pretty much anything that gets to this building has been brought by something that's using fuel."
Claesson said he is increasing his prices this week because of food and fuel costs.
"It's probably going to be about a 10 percent increase or so, but the shipping is going to have to go up significantly because our shipping costs have escalated crazily in the last six to eight months," Claesson said.
Smith, who met with U.S. Food Services on Tuesday to discuss costs and Redneck Gourmet's budget, said he hopes to maintain his present menu prices, but he acknowledges uncertain times lie ahead.
However, he has strong motivation to prevail.
"It's one of the reasons we're so driven here. This is my hometown. I've got three kids and a wife to look after. I'll put in as many hours as I need. We're going to make it work," he said.
E-mail to a friend

CNN's Jim Kavanagh and Susan Roesgen contributed to this report.
All About National Economy • Small Business • Financial Markets