By Jim Kavanagh
CNN
(CNN) -- The crisis in the financial industry is all about huge banking, insurance and investment firms, but the general economic slowdown is hitting regular people right where they live.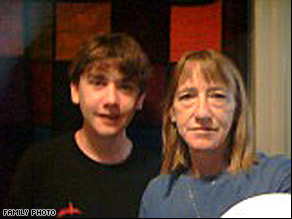 Deborah Walker and son David are struggling amid the economic slowdown.
Deborah Walker of Vista, California, 47, a widow whose sole source of income is Social Security disability payments, said she couldn't afford clothes for her son, David, 13, even before the crisis hit.
"For a while there he was actually wearing my clothes to school," she said. "And now he's pretty much outgrowing my jeans even, so he's actually wearing clothes that are too small for him and pretty worn out."
David is mainly home-schooled but takes some classes at a nearby school, where the other kids make fun of his attire, she said.
"It's hard enough to go through those years as it is," without having to endure that kind of teasing, she said.
Even thrift-store jeans at $5 to $7 are beyond her means most of the time, Walker said. And the future doesn't look much better.
"You just have to keep thinking, 'OK, what is the one thing we have left that we can live without the most?'" she said.
Walker said that she often skips meals so there is enough food for her rapidly growing boy, and her weight has dropped from about 120 to 94 pounds in the past nine months.
She learned Saturday that a $350 annual assistance check from the state would not be forthcoming.
"I usually use this to purchase school clothes and tuck the rest away for Christmas, but now, David won't get either one," she said.
"I don't understand why, every time there is a crisis, it's the poor, disabled, children and seniors who end up having to pay for it."
Small businesses are struggling, too.
"We're greatly impacted by the housing industry, and that's frightening for us," Terry Segerberg, CEO of Mesa Industries in Cincinnati, Ohio, told CNN affiliate WLWT. Mesa manufactures products for the construction and petroleum industries.
Don't Miss
"My employees, we work hard to tell everybody to feel safe and look to a rosy future and we'll get them through, but I just hope I'm not misleading them," she said.
There's a lot at stake for her employees.
"How do you know what's the right decision to make for yourself? Is my money safe, is my mortgage safe? How do you know? You're just a regular Joe trying to do your job," Segerberg said.
It's mortgages that have created many losers and a few winners as the crisis has played out.
Custom home builder Tobin Properties in suburban Atlanta, Georgia, has eight houses on the market, each priced at $1 million or more.
"It's an extremely difficult market right now," owner Mike Tobin said. "We're being affected by the contraction of credit offered by our banks who do construction lending, as well as the fact that basically everyone appears to be waiting this thing out."
Some of his properties have been on the market for more than a year while buyers wait to regain confidence in the future, Tobin said.
"What we're all sort of waiting for in this market is the perception among buyers out there that a bottom has been hit," he said. "And until that happens, I think the fear with most people is that they're going to buy something that's worth less than what they bought it for, in a few months, or that they could get it for less."
Tobin chooses to remain optimistic.
"I'd like to say I see the bottom today, and it's going up from here," he said with a chuckle.
Tobin and other builders are offering steep discounts and incentives to buyers and "good-sized chunks of cash" to real-estate agents in an effort to get a stalled market moving. It's not working.
In the meantime, the builders have to keep paying thousands of dollars for property taxes and construction loans. Tobin's company has cut back hours for its full-time employees.
"Pretty much everybody I know in the industry is suffering right now," Tobin said. "Nobody's really making any money."
Still, buyers with the resources and savvy can take advantage of the market.
Zac and Elizabeth Foster closed Tuesday on a $230,000 home in Kennesaw, Georgia. They're paying $173,000.
"My husband and I keep pinching ourselves, thinking it's not true. It's unbelievable," gushed Elizabeth Foster, 25, who is a ministry assistant at a Presbyterian church in nearby Marietta.
It didn't hurt that husband Zac Foster, 28, is an associate mortgage underwriter with AIG United Guaranty, she noted.
The Fosters "almost had a cow" last week when news of the AIG bailout broke, but Zac Foster's job is secure, Elizabeth Foster said.
"We got very lucky and very blessed," she said.
Artist-blacksmith Jeffry Loy, 35, and his wife, Diana Mulhall, a marketing manager, are purchasing a foreclosed home near Loy's Atlanta home-studio for $53,000.
The house had been caught up in a broad mortgage scam that resulted in 10 arrests and inflated the home's assessed value to $289,000. Its real value probably was about one-fourth that amount, Loy said.
Even though they were qualified to get a house in the $150,000-$200,000 range, "what we were looking for is something that's going to fit our budget," Loy said.
The couple saved money, including tax refunds and their economic stimulus check, in a high-interest savings account for more than a year before the right bargain came along, Loy said. They expect to move into their new home in October.
"It's being realistic and following your own budgetary guidelines and goals to be able to have a happy home with a white picket fence -- which I just laugh, because it does have a white picket fence in front," Loy said.
E-mail to a friend

All About Georgia