(CNN) -- Americans should not stop paying their mortgages even if their mortgage companies are threatened because "your home and your mortgage are not affected by the fact that your mortgage company may go out of business," CNN senior business correspondent Ali Velshi says.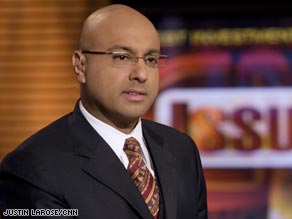 Velshi breaks down your questions amid the current economic crisis.
Question: James in Virginia: The rescue plan ... how will it affect our 2008 tax returns? Would we get more, less or anything back from the government at all?
Velshi: Well, James, here's the good news. It's not going to do anything to your 2008 tax returns. Your 2008 taxes will stay the same; 2009 is a different story.
Barack Obama's plan calls for tax cuts for the middle class and tax increases if you make over a quarter of a million dollars. McCain calls for tax cuts for everybody. What that means is under both of those cases, the tax revenues are going to go down. Expenses are going to go up and, in 2009, you may not get those tax cuts that you're planning on.
Got a question for Ali Velshi? Send one now
Question: Louise in Wisconsin: When the government puts into the system the $7 trillion, will our dollar be worth a dollar or lose value like the Depression?

Watch Velshi say money markets are safe for 401(k)s »
Velshi: Now, we've seen numbers of $700 billion, and some people have said $1 trillion. It is definitely not $7 trillion. I just want to be clear on that. $700 billion is what the government is saying. And yes, Louise, you are right. You can't just add money. We don't have a surplus. We don't have a positive balance. So if you need to come up with $700 billion, you have to print money as it were.
The government has to issue bonds and get that money, and the effect of that is to lower the value of the U.S. dollar, which makes it more expensive for us to buy all those imported goods that we do buy. So you are likely to see a drop in the value of the dollar if this deal goes through. iReport.com: How is this crisis affecting you?
Question: Viewer from North Carolina: If the mortgage company that holds my mortgage goes out of business, what happens to my home?
Velshi: If your mortgage company goes out of business, your mortgage is still safe. ... The mortgage part of that business, the good mortgages get bought by another bank. So nothing will happen to you or your home at the moment.
All of this is having an effect on the price of your home or the ability of someone to buy your home because they can't get credit easily. But your home and your mortgage are not affected by the fact that your mortgage company may go out of business.
If you hear that your bank or mortgage company is going out of business, your obligation is to continue to pay your mortgage unless you get in writing that that situation is changed. Sometimes, your bank sells your mortgage to someone else. Then you follow those instructions.
But when you hear your company is in trouble, that doesn't give you the option of not paying your mortgage. So please continue to do that because if you don't pay your mortgage, it will affect your credit rating and that will affect your money -- your ability to raise money, to borrow money at a good interest rate.
Keep those questions coming in.
E-mail to a friend