(CNN) -- Billionaire hedge fund manager T. Boone Pickens spoke about the beleaguered U.S. economy, a prospective bailout and natural gas Thursday, a day after reports that his energy-related hedge funds lost $1 billion this year.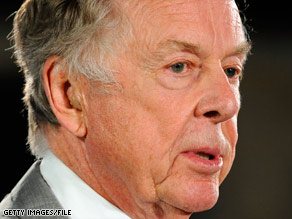 Billionaire T. Boone Pickens has reportedly lost about $270 million this year.
Speaking to CNN's John Roberts, Pickens said he concurred with President Bush's Wednesday assessment that a "distressing scenario would unfold" in the U.S. economy without immediate intervention.
The U.S. economy needs a quick solution, and the U.S. Treasury -- while capable in its own right -- could use help from someone like Warren Buffett, whose Berkshire Hathaway Inc. reportedly invested $5 billion this week in Goldman Sachs, the Wall Street investment bank.
Roberts: By some estimates, your energy fund lost $1 billion. Personally, you may have lost almost $300 million. A lot of people say, "Well, T. Boone Pickens has got a lot of money," but by some accounts, that's 10 percent of your net worth. That was a real hit.
Pickens: That's a good hit. That's right.

Watch Pickens discuss his, America's problems »
Roberts: What happened?
Pickens: I turned the wrong direction, is what it was. You know, you win some and lose some. Some are rained out, you know. You wish this one had been rained out, but it wasn't.
Roberts: I'm sure you saw the president's address last night, or at the very least you heard about it. The secretary of the treasury wants all the money up front. The government wants safeguards on it. They want to make sure there's protection for taxpayers. They want to limit executive compensation. Are you on board with all that?
Pickens: I'm ready to go. I'd give [Treasury Secretary Henry] Paulson the money and tell him get it fixed.
Roberts: You believe that his plan will work?
Pickens: I do. I think it will work, yes. But I think it needs to work quickly. I think you've got to move on with it. I liked Warren Buffett's play into Goldman Sachs.
Roberts: Five billion dollars the other day.
Pickens: That's right. That showed good confidence and all. So that's another leadership opportunity.
Roberts: In fact, you have said, Boone, that you would like to see Warren Buffett handle a lot of these illiquid assets that the government buys up in terms of their disbursement.
Pickens: Can you imagine anybody better? Sure, that'd be great if he'd do it. I don't know whether he would or not. But you need to get somebody like Warren to do it.
Roberts: You don't think they have the expertise at the Treasury Department to do it?
Pickens: Oh, they do have. They may need some help. And that kind of help -- you can't pay for that kind of help.

Watch Bush explain the government's plan »
Roberts: Let me turn to the energy issue. ... We've talked about your plan to wean America off of foreign oil, use natural gas, you know, get wind power going. You're also -- correct me if I'm wrong -- but you're going to be launching another series of ads here encouraging the presidential candidates to come forward with a plan to wean America off its dependence on foreign energy. Don't they already have a plan?
Pickens: No. Neither one of them has a plan. The plan I want is to reduce imports of foreign oil. And we can do that one way. Natural gas is a resource we have in America. It is cleaner, it's cheaper, it's abundant and it's ours. So every gallon of natural gas you put in a tank, you will reduce foreign oil by one gallon. So it's a one-to-one trade-off every time. We could reduce foreign oil by 30 percent. I think we could do it in five to 10 years.
Roberts: So what you've heard from them so far doesn't go far enough down the road?
Pickens: No.
Roberts: But also at the same time, Boone, you are heavily invested in natural gas and there are some people out there who say you're just promoting your business here.
Pickens: Well, actually, John, I don't have any natural gas production to speak of. I mean, it's small. It's very small. Now, when I was with [Mesa Power LLP], Mesa was a big natural gas producer. But Boone Pickens is not a big natural gas producer. But I am in natural gas fueling on the West Coast. But all of that, every time you use a domestic fuel, you reduce foreign oil. It's that simple. And we can do it. And this is cheaper. Can you imagine, cheaper, cleaner, abundant and ours? You couldn't pick a better description of what you want to use.
E-mail to a friend

All About T. Boone Pickens • U.S. Department of the Treasury • Warren Buffett