(CNN) -- Thousands of fans passed through the turnstiles of Yankee Stadium for the last time Sunday to watch the Bronx Bombers beat the Baltimore Orioles.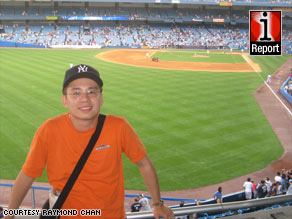 Raymond Chan says he got chills down his spine when he walked into Yankee Stadium.
The 7-3 victory capped an emotional year for baseball fans.
We asked CNN.com readers to share their memories of the 85-year-old stadium and heard from many people who made pilgrimages during its final season.
Stephanie LaRiviere-Miller and her husband flew from Portland, Oregon, to see their first -- and last -- game at Yankee Stadium.
And they're Boston Red Sox fans.
The trip "wasn't in our budget, but I knew I had to see this piece of history before it was gone," she wrote, adding that they were lucky to get free tickets from a friend's dad and airline miles from her brother-in-law.
"The new stadium is for certain going to be much nicer, roomier, and with many more accommodations. But I'm not sure that will make it better," she wrote.
iReporter Raymond Chan has been a Yankees fan since he moved to Canada in 1987, so he scrambled to get to a game.
"Chills went down my spine as I entered the stadium," he wrote.
It "cost me a bundle," he wrote, but he was able to buy tickets for last month's Old Timers' Game.
"I almost had tears in my eyes when they started announcing all the Yankees legends, [Don] Larsen, [Reggie] Jackson, [Willie] Randolph, and finally [Yogi] Berra," he wrote. "The noise from the crowd was deafening."
David Levine of Los Angeles, California, said he idolized Don Mattingly and the Yankees as a child, and he once caught a foul ball at Yankee Stadium.
"The ball literally came right to me. I just stood up and caught it, without even an attempt from anyone around me," he said. "I took a photo right after it happened (I wouldn't need any help remembering the moment for the rest of my life, but I wasn't going to shy away from visual evidence of the moment)." iReport.com: See Levine's foul ball
Richard Bernier, another Red Sox fan, paid $80 for a $19 ticket to see his team's arch rivals.
"I went with my nephew who is a Yankee fan due to his father who is from New York and grew up going to Yankee games. So the both of us had the trip of a lifetime, got to see a great classic ball park, and to top it all off, I got to see the last Red Sox victory at Yankee Stadium," he wrote.
Katie Stem has been going to games since she was a little girl and said "Yankee Stadium means a lot to my family and me."
"My family has been to countless games, each time you walk out and see the field is just as magical as the first," she wrote.
She also went to a game this season to say her goodbyes.
"Walking away from the Stadium that night, I kept looking over my shoulder just to look at it again. Just trying to hold on to how much it means to me and to so many others," she wrote.
Patricia O'Donnell of Wichita, Kansas, said she loves to hear her 87-year-old grandmother's stories about skipping school in the Bronx and sneaking off to Yankees games.
So she jumped at the chance to buy tickets to this year's All-Star Game.
"Just to listen to the stories about her when she was a child going to the games, and all the great baseball players that she saw, and the stories about them was worth a million dollars to me," O'Donnell said.
She said her grandmother loves the Yankees and won't talk on the phone when they're on television.
O'Donnell said her grandmother's memory isn't what it used to be, but she hasn't forgotten that day.
"I really didn't expect her to remember the game for more than a few days after we got back, but man, she's still talking about it today," she said.
They're already starting to make plans for next season.
"I'll miss the stadium, and all the ghosts that are there, reminding us how historic the field is, but look forward to making new memories next year with grandma in the new stadium!"
E-mail to a friend

All About Yankee Stadium • Boston Red Sox • Baseball