(CNN) -- Catherine Konradt wrote "Goodbye" on an iReport.com post as she was packing to move from California to Arizona to live with her mother. "Both my husband and myself have master's degrees and can't find a job to save our lives."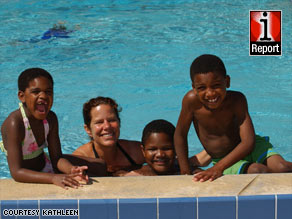 iReporter Kathleen has a long list of things she is giving up because of financial struggles.
Konradt was laid off in July and said potential employers have been turning her down for months because of the "high volume of résumés."
"I have just about hit the end of the line financially," she says. "Even in a two-income family, we are hard-pressed. Something has got to give soon!"
iReporters were asked what they are giving up to cope with rising prices and the faltering economy, and they responded in big numbers.
Rebecca Fabian of Calhoun, Georgia, who is waiting for her husband to finish school in December, was one of the many who wrote in.
"Right about the time he started college, they raised gas prices, so we have paid up to $450 a month just for him to attend school."
Fabian is the breadwinner in her family of four, and they are tightening their belts.
"I have given up doing my hair and nails, shopping, going to the movies, eating out, and buying drinks like Gatorade, Coke, etc. I drink a lot of tea, water and Kool-Aid. I buy the cheapest groceries I can," she says.
The Fabians also had to sell their van. "My husband is using a car someone gave us," she says.
Before long, the stress got to her. "Back in July, I almost had a nervous breakdown from the financial stress. I finally had to pretend like we don't have credit-card and medical bills just so I could stay sane." iReport.com: Read more of Fabian's story
Amanda Scott of Owasso, Oklahoma, recently had to give up something very precious: her dogs.
Soon after Scott bought a new home, she learned that the cost of day care was going up by $10 a week. Then came the double-whammy.
"We got an estimate to build a fence for our two basset hounds in the backyard. It was outrageous!" she says. "There was no way we could afford to build a fence."
The fence cost, combined with the normal costs of taking care of two dogs, was too much. "It broke our hearts, but we decided we'd have to give up our dogs. Luckily, our old neighbor wanted to adopt them." iReport.com: Take a look at the dogs
Kathleen of Santa Fe, New Mexico, says her family "lived pretty close to the bone already."
A single mother of three, Kathleen works a full-time job and two part-time jobs. Recently she listed what she has had to give up on iReport.com. The list includes cable television, land-line telephones, allowances, movies and eating out. iReport.com: Read Kathleen's list
But Marcia Barton of Baton Rouge, Louisiana, says she's not cutting back at all. "Six months ago, we got cable for the first time ever. We bought a new truck and put a pool in this summer," she says. "We're progressing, not backing up."
Barton attributes this to living frugally early on, living on only one income and holding the other in reserve. When she quit working outside the home, "I applied the skills that made me a successful professional to learning to cook from scratch, cut coupons, shop sales, and think carefully about what we wanted for ourselves and what we were buying."
Barton thinks "materialism" has led to some of the problems people are facing.
"We've been erroneously and foolishly treating the non-necessities like Internet, cable, cell phones, Netflix, shopping, SUVs, vacations, designer clothes, and heck, even a morning cup of home-brewed coffee, as necessities." iReport.com: Read more from Barton
Mary Ann Tuchol of St. Pete Beach, Florida, says Americans are always faced with the question of what they need and what they want. "As Americans, sometimes we want more, which isn't a bad thing, ... It's just sometimes we have to trend down."
Tuchol has had to cut back in her personal life as well. In January, she is giving up the lease on her car and repairing her old one.
"We used to go out three times a week to have dinner at an inexpensive restaurant; now we go out maybe once a week. Coupon cutting, discount stores and specials of the week are now a part of our weekly quest."
On top of that, Tuchol's health insurance has gone up. "Thank goodness we are giving up our car so that we can pay for our health insurance." iReport.com: Read Tuchol's story
Johnathan Gorman of Indianapolis, Indiana, calls the economic downturn "a lesson [as] to why one plans ahead."
Gorman regrets not attending college but says he has found success owning and running organizations. "This can be a great time to find excellent deals, especially on luxury items since the market is slow," he says.
"I'm giving up nothing and just taking every step possible to maximize opportunities." iReport.com: Catherine Konradt hits the road
As for single mother Kathleen, it appears that iReport.com helped her get through the stress of her situation.
"I feel better just saying this stuff in writing. A lot of the time I feel like a failure for my inability to give my children all the 'things' I'd like. But we all love each other, and I guess love is all you need."
E-mail to a friend