WASHINGTON (CNN) -- Lawmakers questioned whether the White House had a long-term solution to the problems facing Wall Street after President Bush on Thursday declared the government's actions to shore up crumbling financial institutions necessary to avoid a "severe disruption" to financial markets.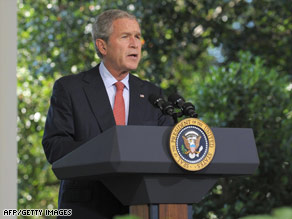 President Bush said his administration is ready to act to head off market disruptions.
The criticism of the president was bipartisan, but Democrats faulted Bush for not explaining the crisis to the American people.
Deputy White House Press Secretary Tony Fratto said Thursday that Bush met with Treasury Secretary Henry Paulson this afternoon for about 40 minutes along with Fed Chair Ben Bernanke and SEC head Chris Cox.
After the meeting the president said the government had taken "extraordinary measures" to help stabilize the markets, including the takeover of American International Group Inc.
Later Thursday leaders from both the House and the Senate were briefed by Treasury Secretary Henry Paulson and Federal Reserve Chairman Ben Bernanke. Afterward, Paulson announced that the federal government would seek to take a more central role in resolving the credit crisis by providing a way for banks to get rid of mortgage-related assets that have been hard to value and harder to trade.
Bush spoke for less than two minutes outside of the Oval Office.
"The American people needed a fireside chat. Instead they received fast talk and a quick exit. ... It cannot give reassurance to the American people that this administration has really come to grips with the problem that faces our nation today," Sen. Dick Durbin of Illinois, the No. 2 Democrat in the Senate said.
Senate Majority Leader Harry Reid also blasted Bush, saying, "After seven years and almost nine months, his philosophy of non-government has come back to haunt him. So, I can't blame him for only wanting to speak for two minutes."
Republican lawmakers, on the other hand, questioned why taxpayer dollars are being used to bail out private firms and howled that the administration had not consulted with them before making billions of dollars in loans.
As part of a deal to rescue the insurance giant, the government took 80 percent of AIG's equity in exchange for an $85 billion loan from the Federal Reserve.
Bush said Tuesday's AIG takeover was necessary to prevent "a severe disruption in our financial markets and threatened other sectors of the economy."

Watch as Bush says he's closely monitoring the situation »
He also said the federal takeover of two mortgage giants Fannie Mae and Freddie Mac was necessary to "help promote market stability and to ensure they can continue to play a role in helping our housing market recover." The government also has pledged up to $200 billion in credit to the mortgage giants to ensure that the mortgage industry would continue to function.
The Federal Reserve on Wednesday night also took steps, in coordination with central banks around the world, to provide additional liquidity to U.S. markets.
Despite the government's takeover of AIG, the Dow Jones industrial average fell 449 points Wednesday in its second worst session of the year. The market bounced back somewhat Thursday morning, with the Dow in positive territory on the news that the central banks had injected more funds into the U.S. economy.
"These actions are necessary and important, and the markets are adjusting to them," Bush said.
Bush's comments, however, did not satisfy House Speaker Nancy Pelosi, who criticized him for not doing more to explain the crisis to the American people. Bush had not fielded questions about the economic upheaval this week.
"We wondered if he was ever going to come out of hiding on the subject. He came out in one minute and said very little," Pelosi, D-California, said.
She said the Bush administration was to blame for failing to intervene before the problems developed.
"It's not a free market when you can run wild, anything goes, privatize the gain, nationalize the risk and, when you fail, the middle class bails you out," Pelosi said. "It's just not fair. It's just not right."
She said the appropriate committees would investigate the "mismanagement of the financial market regulation" and ask where the money for AIG was coming from and whether it would increase the federal deficit. iReport.com: What are you giving up?
Democrats were not alone in criticizing the administration.
House Minority Leader John Boehner of Ohio said Republicans weren't informed about the AIG bailout until afterward, and he demanded that the administration consult with lawmakers before moving ahead with similar deals in the future.

Watch how the AIG bailout affects taxpayers »
"It's not for me to judge in the middle of a crisis, to second-guess them or to judge what could have been," he said, but "I and all of my colleagues on the Hill are concerned about the lack of information, the lack of consultation."
He added, "We are a separate branch of our government, and members are entitled to information."
Earlier, other Republicans had gone further in their criticism.
"Once again the Fed has put the taxpayers on the hook for billions of dollars to bail out an institution that put greed ahead of responsibility and used their good name to take risky bets that did not pay off," said Sen. Jim Bunning, R-Kentucky, a member of the Senate Banking Committee.
And Rep. Roy Blunt, R-Missouri, said House Republicans are struggling to "understand a coherent strategy" about which firms get rescued and which ones don't.
A group of conservative House Republicans on Thursday sent a letter to Paulson and Federal Reserve Chairman Ben Bernanke urging them to refrain from any further bailouts.
"Our heads are spinning right now with the bailout mania. First, we were told that Bear Stearns was too big to fail, then we were told that Freddie, Fannie were too big to fail, then we were told that AIG was too big to fail. What's next -- Starbucks too big to fail?" asked Rep. Michelle Bachman, R-Minnesota.
White House spokeswoman Dana Perino defended the quick action by the Federal Reserve and Treasury Department. "There were fast-moving developments, and I believe that the Treasury Department tried as hard as they could to get information up to members of Congress as quickly as possible," Perino said.
When asked by reporters what steps the Federal Reserve, the Treasury Department and other agencies may take, Perino said she could not comment but said the administration would "continue to assess the situation and take any necessary steps, if there are necessary steps that need to be taken."
E-mail to a friend

CNN's Scott J. Anderson, Ted Barrett, Deirdre Walsh, Lesa Jansen and Elaine Quijano contributed to this report.
All About American International Group Inc. • George W. Bush