DES MOINES, Iowa (CNN) -- Paulette Wiley was fed up.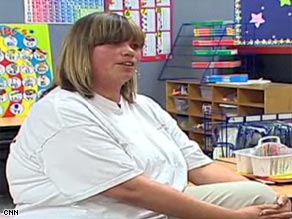 To date, 300 parents have participated in the Education Brain Trust program founded by Paulette Wiley in Iowa.
Tired of watching kids fail in school, the education activist came up with a plan. She called a meeting with the parents and told them she'd pay them $25 just for showing up.
"Ten dollars isn't dignified, $30, that's too much," says Wiley. "But $25, that sounded real good. Real good."
At the first meeting in May, parents introduced themselves and explained why they had come. Wiley says she was struck by the level of pain of the parents.
"One father stood up and talked about how he wanted more for his children, how he was second-generation special education and how his children were coming through special education, and how he wanted to break the cycle," recalls Wiley.
By the time introductions were finished, most people in the room were crying and realized they were not alone.
As strange as it may sound, schools across the country, in New York, Texas and Arizona, have taken this approach. They're paying students to take tests and make good grades.
Broken Schools
All this week in our "Broken Schools" series, we're taking you inside America's classrooms to get a first-hand look at the challenges facing your kids.
Weekdays, starting at 6 a.m. ET
Wiley, who lives in Des Moines, Iowa, decided to take a different approach and target parents throughout the largely African-American school district.
"Our parents are disconnected. They're disconnected from a system that doesn't respect them," says Wiley. "They're disconnected from a system they don't have a positive relationship with, so we've got to reconnect our parents."
Wiley's program, the Education Brain Trust, runs daylong seminars that show parents how to work with teachers, help with homework and support their kids. Parents are given a T-shirt, a tote bag, food and provided with on-site babysitting.
The parents are required to sign a commitment letter agreeing to have at least four positive experiences in their child's classroom, including attending parent-teacher conferences and supervising an hour of homework a night.

See how the program attempts to bridge the achievement gap »
"We talk about turning the radio down, turning the music off, getting the people out of the house, no card games at the table," says Wiley. "I'm talking about you sitting down reading with your child, I'm talking about you showing your child how important homework hour is to you. That's what we ask them for and that's a lot."
La Conda Obie, whose daughters are in fifth- and 10th-grades, went to the seminar to learn her rights as a parent.
"I get a stipend, but at the same time I get knowledge as well," says Obie, who usually brings her girls Shanai, 15, and Shamai, 10, so they can also learn from the course.
Critics say paying parents, and students for that matter, cheapens the learning process.
Alfie Kohn, author of "Punished by Rewards" says the challenge is to change the learning environment -- not paying people to work within the one that's broken.
"When are educators going to work with children and their parents to create the kind of learning environments that will be naturally engaging to kids instead of doing things to make them jump through hoops for a prize?" says Kohn.
Nearly 60 percent of African-American fourth-graders in Des Moines can't read at grade level, according to the Iowa Department of Education. Superintendent Nancy Sebring says if turning that around means paying parents every time they show up to a seminar -- she supports it.
"From my experience, the lack of parental involvement has not been from parents not caring," says Sebring. "They may be working two jobs, they may not have transportation to and from school, they may not speak English."
Sebring says when she was approached about paying parents, she never hesitated.
"I thought that it was an excellent idea. Poverty disrupts learning, it is not an excuse not to learn," Sebring explains. "So any way you can fill the void by providing parents with necessary resources, even a small amount of money can go a long way to a family."
So far, 300 parents have attended Wiley's program, which is paid for by a $20,000 county grant and co-sponsored by the ASK Family Resource Center.
Susan Myers, executive director of ASK, says its important to get parents involved, especially in the African-American community, where a disproportionate number of children are placed in special education programs, suspended or expelled.
She is one of many who say it's no coincidence that Iowa also incarcerates a disproportionate number of blacks.
"We know historically that special education identification, especially for minorities, is the first step towards detention and then ultimately prison and our goal is to interrupt that pipeline from school to prison," Myers says.
Now that she knows what the classes are about, La Conda Obie says she'd attend even if she weren't paid. She sees it as an investment in her children's future.
What kind of future does she want for her daughters?
"Just put her best foot forward and get her education," says Obie.
E-mail to a friend