WASHINGTON (CNN) -- The Pentagon has "terminated" the competition for an Air Force airborne tanker contract for now, leaving the decision for the next presidential administration, a statement from the Defense Department said Wednesday.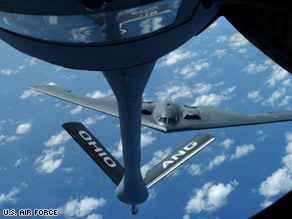 A KC-135 Stratotanker prepares to refuel a B-2 over the Pacific Ocean in an undated photo.
The Pentagon has notified Congress and competing contractors Boeing and Northrop Grumman that the "solicitation and award" can't be done by January.
Defense Secretary Robert Gates -- who made the decision in consultation with Defense and Air Force officials -- said it would be better to have a "cooling-off" period rather than come up with "an incomplete and possibly contested process."
"Over the past seven years the process has become enormously complex and emotional -- in no small part because of mistakes and missteps along the way by the Department of Defense," Gates said.
"It is my judgment that in the time remaining to us, we can no longer complete a competition that would be viewed as fair and objective in this highly charged environment."
The Air Force said it stood by the decision. "The Air Force supports Secretary Gates' decision to withdraw the RFP (request for proposal) and give an incoming administration a clean start," it said in a statement.
Officials say the present "KC-135 fleet can be adequately maintained to satisfy Air Force missions for the near future" and funding will be recommended for maintenance.
Wednesday's announcement was the latest development in a topsy-turvy battle for the contract between Boeing and Northrop Grumman.
The $40 billion contract for the tanker program originally went last spring to Northrop Grumman and partner company European Aeronautic, Defense and Space. But a Government Accountability Office investigation found errors in the decision-making process.
The Pentagon was forced to cancel the contract and asked the two companies to resubmit their proposals for the plane, known as the KC-X.
Pentagon officials said then that a decision on which company would get the contract, which with subsequent orders could be worth more than $100 billion, should be made by the end of the year.
Under the program, the Air Force plans to replace 179 tankers, with a possible expansion to nearly 500 aircraft. The service has been trying to replace its tanker fleet for seven years.

See how airborne refueling works »
To sweeten its bid to acquire the contract, EADS had announced it would put the tanker assembly plant in Mobile, Alabama, where it planned to hire nearly 2,000 workers.
Northrop Grumman said in a statement that it was "extremely disappointed" in the decision, "especially on behalf of our men and women in uniform who will now be denied a critically needed new tanker for years."
Alabama Gov. Bob Riley also was not pleased.
"I strongly disagree with this decision and find it absolutely bewildering," Riley said in a statement. "The Air Force has been trying for six years now to replace its aging fleet of tankers. Yet another delay does nothing except put our warfighters at greater risk. For that reason alone, I can't understand why anyone would make this decision.
"At some point, we have to say we are going to put our warfighters first -- not the suppliers, not politics.
"I still agree with the statement Secretary Gates made at Maxwell-Gunter Air Force Base on April 21 when he said: 'All I can say is that I think it would be a real shame if the tanker were to get delayed yet again. We're long past due in terms of getting on with this program.' "
Boeing builds planes in the state of Washington and has major plants in several other states, including Missouri and Kansas.
In a statement, Boeing said it "welcomes the Defense Department's decision and believes that it will best serve the warfighter in allowing the appropriate time for this important and complex procurement to be conducted in a thorough and open competition."
"In the meantime, the Boeing team will continue to support the Air Force in helping to keep the current KC-135 fleet flying their missions safely and reliably."
The tanker project had already been delayed by a corruption scandal stemming from the Air Force's earlier plans for a lease-purchase deal for tankers based on Boeing's 767 commercial airliner.
That deal would have cost more than buying the aircraft outright. Critics said it amounted to a taxpayer bailout for the then-slumping 767 program, and Congress -- led by Sen. John McCain, now the Republican presidential nominee -- blocked the deal in 2004.
Boeing's latest proposal was still based on its 767 airliner. Northrop and EADS offered a model based on the larger Airbus A330, variants of which are already used by Australia's air force.
Some current Air Force KC-135 models, built on Boeing 707 airframes, are nearly 50 years old, and the average age of the fleet is more than 24 years. By comparison, the average age of a U.S. commercial airline fleet is just over nine years, according to Air Force officials.
E-mail to a friend

All About Northrop Grumman Corporation • Boeing Company