By John Blake
CNN

(CNN) -- Courtland Cox stood on a podium with the Rev. Martin Luther King Jr. in 1963 and listened to a dreamer.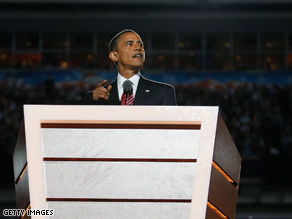 Sen. Barack Obama accepts the Democratic Party's nomination for president.
On Thursday night, exactly 45 years later, Cox watched Sen. Barack Obama become something else -- a fighter.
"He was both intellectual and emotional," said Cox, a business consultant in Washington, D.C."He understands that you don't bring a pillow to a gunfight."
Cox is one of a group of people who are living bookends to two transformative moments in U.S. history. They personally watched King deliver his iconic "I Have a Dream" speech. And they watched Obama deliver his acceptance speech after becoming the first African-American major-party presidential nominee in the nation's history.
The notion that their lives could encompass both historic events left some of them inspired and baffled.
"I've been in search for the right words, and the closest thing that I can come up with is 'surreal,'" Peter Williams III said. He was 10 years old when his family took him to the 1963 March on Washington. iReport.com: Missed King's speech, glad to watch Obama's
Although each witness touched on the symbolism of Obama's link with King, they kept returning to a more earthbound theme. They said they had never heard Obama sound so tough and assured.
During his 50-minute speech, the culmination of the Democratic Party's four-day national convention in Denver, Obama went right after his Republican opponent John McCain.
He said McCain was out of touch and wrong on the Iraq War, energy policy, health care and the environment.
"He showed some muscle," said Williams III, an IBM salesman in Marietta, Georgia, who watched the speech from his home. "He squared off and went toe-to-toe."
The Rev. Albert Cecil Williams -- no relation to Williams III -- also attended the March on Washington in 1963. He said he had to get up and shout in his San Francisco, California, living room when he heard Obama speak.
It's the same reaction he had when he heard King shout "Free at last!" to the cheering crowd at the Lincoln Memorial 45 years ago, he said.
Williams is the founding pastor of Glide Memorial Church in San Francisco. He said he and his family slipped into the call-and-response ritual of the black church as Obama spoke. They began to shout "Yes! Come on! Make it work!" at the TV screen. iReport.com: Varied reactions to Obama's speech
They were fired up because they had never seen Obama so fired up, he said.
"He stood tall," Williams said. "I had not seen him convey that kind of commitment. He seemed to be operating from a place of strength."
Williams III, the salesman in Georgia, said Obama could do today what King couldn't do in 1963 -- show some righteous anger.
"Back then, you would be viewed differently if you showed anger," he said. "You could be angry but you had to show that you were not dangerous, especially if you were a black man."
Hearing the dream in person
As these witnesses to history talked about Obama, they also reflected on that humid afternoon in August when they heard King give his "I Have a Dream" speech.
They said they couldn't have imagined seeing a black man poised to enter the White House on that day in 1963.
"For a black person to say back then that 'I'm going to run for president' would be like someone saying 'I'm going to walk to Mars,'" Cox, one of the organizers of the March on Washington, said.
Cox said marchers weren't thinking about history in 1963. They were concerned with staying alive. The sunny newsreels showing the festive atmosphere of the March on Washington don't reveal the escalating danger that so many people in the movement felt at the time, he said.
By the summer of the 1963, the civil rights movement was reaching a critical point. There were at least 900 demonstrations in 100 cities, with more than 20,000 arrests.
Cox, who was a leader with the Student Nonviolent Coordinating Committee (SNCC), a group of frontline civil rights activists who worked in the rural South, said his group tried to arouse the interest of The New York Times in the murders in Mississippi of at least 30 black people that year.
"We got maybe got two lines in the paper," he said. "Nobody cared. We were invisible."
Witness recalls realization dawning that King's speech was extraordinary
The march was designed to change that. Cox says he still recalls debating the merits of the march that morning with the Malcolm X, then a black separatist. He told Cox that the march was a charade and a clown show.
As he stood on the podium listening to King, Cox said he realized that Malcolm X was wrong.
He could sense something special was about to happen when he heard the renowned gospel singer Mahalia Jackson say out loud on the podium, "Ah Lord," as King departed from the planned closing of his speech and began to improvise his "I Have a Dream" ending.
Jackson, a powerful singer, urged King on as he launched into the famous climax of his speech.
"I knew then that this was going to be something," Cox said. "It started getting good. Mahalia Jackson started rocking and rolling with him. It got inspired."
Christine King Farris, King's oldest sister, watched the speech from her parents' home in Atlanta, Georgia. She said she didn't anticipate he would be making history.
It didn't take her long to realize that he had.
"As soon as he finished, our phone started ringing," she said. "People started calling from everywhere. They thought it was great."
The expectations for Obama's speech this week were high as well. Many of Obama's critics and supporters agree on at least one point -- he's a powerful public speaker.
The timing of Obama's speech invited inevitable comparisons to King, but the Illinois senator comes from a different place, said Drew Hansen, author of "The Dream," a book that analyzes King's speech.
"King is the son of the segregated South; Obama is the son of integrated Hawaii," Hansen said. "King is a preacher and Obama is a law professor. No one would think of comparing the two if they weren't both black."
But both faced a similar challenge when they gave their speeches. King was a national figure in 1963, but many people either didn't know him or didn't think he was patriotic enough, Hansen said.
"They both faced the task of introducing themselves to a potentially skeptical audience," he said.
King converted many critics and so will Obama, King's sister Farris said.
She doesn't immediately think of the "I Have a Dream" speech when she thinks of Obama's relation to her brother. She thinks of her brother's final sermon in Memphis, Tennessee, where he vowed that "We as a people" would get to the Promised Land.
"I never thought in my lifetime that I would see one of us aspiring to be the head of our nation," she said. "Mr. Obama leading us toward the presidency is like the Promised Land for us."
E-mail to a friend

All About Martin Luther King Jr. • John McCain • Barack Obama