From Kevin Bohn
CNN

WASHINGTON (CNN) -- In an unusual move, an attorney for anthrax suspect Bruce Ivins, who committed suicide last month, is speaking up for the government, saying it should not be blamed for his death.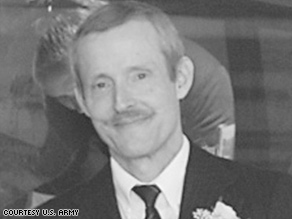 Former U.S. Army researcher Bruce Ivins killed himself in his Frederick, Maryland, home in July.
"Some press accounts have contained statements faulting the FBI for Dr. Bruce Ivins' suicide. We disavow such speculation," attorney Paul Kemp said Thursday in a statement obtained by CNN. He said the statement was issued in reaction to reports on Web sites and blogs talking about the death.
Some of Ivins' friends have said the FBI harassed him and his family and that could have led to his taking of his own life.
Although the defense attorneys have said that they think Ivins is innocent and say the government's evidence has many holes, Kemp said, "both [Ivins] and counsel were treated fairly and professionally" by the prosecutors and FBI agents overseeing the case.
The Justice Department and the FBI laid out evidence this month that they said led them to believe that Ivins was the man responsible for the anthrax-laced mailings that killed five people and injured 17 in fall 2001.
The evidence included scientific data linking the strain of anthrax used in the attacks to a flask in the researcher's lab and information showing that the scientist had worked long hours right before the mailings.
On July 7, federal prosecutor Rachel Lieber contacted defense attorneys regarding reports she had received from personnel at Fort Detrick, Maryland, where Ivins worked, regarding his "deteriorating medical condition," Kemp said. "We believe that Ms. Lieber acted out of concern for his welfare."
Kemp says that although speculation has been aimed at Ivins regarding the attacks, "it is wrong to answer such speculation with similarly unfounded accusations and innuendo" against prosecutors and FBI agents.
E-mail to a friend

All About Anthrax • Federal Bureau of Investigation