WASHINGTON (CNN) -- A Federal Emergency Management Agency official Thursday defended the agency's handling of millions of dollars worth of supplies meant for survivors of the 2005 hurricanes, but pledged to check with states before any future giveaways.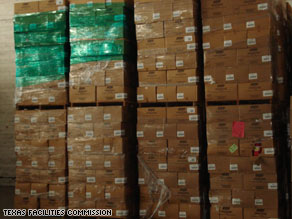 These items, stored by FEMA, were meant for Katrina victims but were not distributed.
"We will give them notice prior to going to the proper process to get it into their hands," Eric Smith, FEMA's assistant administrator for logistics management, said at a congressional hearing.
Officials from FEMA and the General Services Administration came in for sharp questioning from Gulf Coast lawmakers during a rare joint hearing held by the members of the House and Senate Homeland Security committees.
The session was prompted by CNN reports that FEMA had given away more than $18 million in household goods -- amassed to help resettle people who lost homes in hurricanes Katrina and Rita -- as surplus property while aid agencies reported the goods were still needed on the battered Gulf Coast.
Smith said the stockpiles that had been sitting in a Fort Worth, Texas, warehouse until February already had been offered to Gulf Coast residents in the aftermath of the storm and were returned to FEMA without being claimed.
"We didn't receive them and not issue them," he said. "They were returned to us after they were not used from different areas -- Mississippi, Louisiana."
But Sen. Mary Landrieu, D-Louisiana, said FEMA never told state officials or relief agencies involved in recovery efforts that the "living kits" meant to resettle hurricane survivors were still available.
"How can people ask for something they don't know exists?" Landrieu asked.
Don't Miss
"They have to have a need," Smith said. "If they have bona fide need, it's their responsibility to pass that need on."
Landrieu, a frequent critic of the agency since Katrina, said FEMA didn't even contact its own office in New Orleans to determine whether the kits -- which included items such as cleaning supplies, kitchenware and towels -- were still needed before it turned the material over to the GSA as surplus property. She also asked FEMA to explain what happened to a February request by the head of the Louisiana Recovery Authority for $6 million in "household establishment" funds for about 6,000 families moving out of FEMA housing.
"It's like if a house was on fire," she said. "If the fire department operated the same way FEMA does, we would have to call the fire department and specifically request the hose, the pressurized water, the truck, the firefighters and the ladder, all before FEMA would acknowledge that they should send this equipment to help."
Smith called reporting of the giveaway "inaccurate" and "misleading." In particular, he took issue with reports that the surplus goods were "given away."
"According to federal management regulations, we cannot give away anything," he said. "We had to use the established federal process to dispose or excess these supplies."
Nevertheless, the material had been distributed to 16 states and several federal agencies before CNN aired its reports. Since then, some of the organizations that accepted the stored goods have given them to Louisiana and Mississippi officials.
Hurricane Katrina killed more than 1,800 people in Louisiana and Mississippi when it struck in August 2005. It destroyed hundreds of thousands of homes on the Gulf Coast and flooded most of New Orleans.
In a letter last week, FEMA chief David Paulison told Rep. Bennie Thompson, D-Mississippi, the head of the House Homeland Security Committee, that the agency already has distributed more than 90,000 of the household kits. Smith told lawmakers that FEMA is still cataloguing what supplies it has left from the hurricane relief effort.
"We learn from our mistakes," he said. "We will fix it."
E-mail to a friend

All About Hurricane Katrina • New Orleans • FEMA