From Mike Ahlers
CNN

WASHINGTON (CNN) -- U.S. immigration officials, taking a new tack to solve an old, intractable problem, say they will give "fugitive aliens" in certain cities incentives to surrender during a three-week period in August.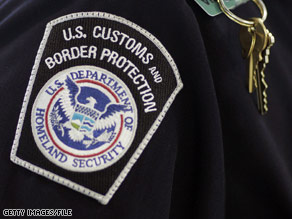 Officials will offer fugitive aliens incentives to surrender for three weeks in August.
The program will give fugitive aliens -- people who have been ordered by immigration courts to leave the United States -- up to 90 days after surrendering to get their affairs in order before departing the country.
For those without sufficient financial means, the program also will make arrangements for them to leave the United States. And the program will allow fugitive aliens to avoid detention pending their removal, Immigration and Customs Enforcement officials said Wednesday.
It will also create a record documenting when they left the country, information that would be necessary should the person ever seek to return legally.
The pilot program, which will start Tuesday and run through August 22 in five U.S. cities, could be expanded to other cities, said Jim Hayes, ICE's acting director for detention and removal.
The participating cities are Santa Ana, California; San Diego, California; Chicago, Illinois; Charlotte, North Carolina; and Phoenix, Arizona.
As many as 500,000 fugitive aliens are believed to be in the United States, Hayes said, but he wouldn't guess how many would self-report under the program.
Last year, the government removed about 30,000 fugitive aliens using traditional methods, which include searching for the immigrants and following up on chance encounters they have with police.
One immigrant advocacy group called the program a "gimmick" Wednesday and said it is unlikely many people will enroll.
"I don't see the advantage," said Douglas Rivlin of the National Immigration Forum. "If you're really thinking about leaving the country anyway, I don't see the advantage of stopping into your local ICE office on your way to the airport."
He said many fugitive aliens do not even know they are under a deportation order.
"Hearings are held in absentia. [The government] is just notoriously bad in having the wrong name and address for people. So it's not quite as neat and clean as they say," he said. "It's possible that some folks who are on the verge of [deportation] will come forward, but I find it really unlikely."
Hayes said the program is in response to complaints from community groups and immigrant advocacy groups that ICE has been heavy-handed in its treatment of illegal immigrants during recent crackdowns and about conditions at detention facilities.
Some of the groups have said immigrants would leave the country willingly if given the chance, Hayes said.
Under the program, ICE will publicize a toll-free telephone number that fugitive aliens can call to arrange appointments with ICE case officers. ICE officers will meet with the aliens and determine on a case-by-case basis how long the person can remain in the United States.
ICE will gather biographic information and fingerprints from the aliens and, for those who are not criminals or deemed to be threats to the community, will give them up to 90 days to leave the country, depending upon how long each person needs to get their affairs in order, Hayes said.
A case officer will verify the person's departure at the airport or land port of entry, he said.
The toll-free phone number will be announced next week after it is operational, he said.
"We're excited. We're hopeful this is going to be a successful operation," Hayes said.
He said ICE will continue its regular enforcement actions.
"This is not something that we're doing in lieu of regularly scheduled or other [operations]," Hayes said.
The program does not apply to other illegal immigrants, those who have not been ordered removed by a court.
"We are not going to turn away any individual," Hayes said, but non-fugitive immigrants may or may not be detained, depending on "their particular history and particular immigration history."
E-mail to a friend

All About U.S. Bureau of Immigration and Customs Enforcement • Immigration