LOS ANGELES, California (CNN) -- iReporters across the Los Angeles area felt a magnitude 5.4 earthquake that struck east of the city at 11:42 a.m.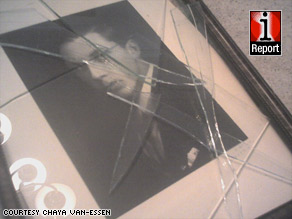 A photograph in Chaya Van-Essen's Beverly Hills home shattered during Tuesday's quake.
The U.S. Geological Survey considers earthquakes between 5- 5.9 magnitude as "moderate," causing slight damage to buildings. It was enough to startle several iReporters in the area, many of whom experienced their first earthquake Tuesday.
"It was the worst earthquake I've felt since '86," said Jesse Diaz, who was at his Chino home when the quake hit.
"You could just feel the ground shaking back and forth," he said. "I looked outside and the patio was just twisting." His home is about a mile from the fault line.
Diaz, a professor at Mount San Antonio College in Walnut, California, said he spoke to one of his students after the quake. There is reported damage to one of the buildings on campus, which is closed for the day.
Kelly Keurzoneff experienced her first earthquake Tuesday. The 30-year-old project manager moved to Los Angeles four years ago. She described the quake as "rolling," and said it seemed to last a long time.

Watch a backyard pool splash during the quake »
"It wasn't as shaking and jarring as I thought it would be," she said. There was no damage to her home.

See where iReporters felt the quake »
Jyotirmoy Nanbi moved to Pasadena in 2006. He was at work when the quake hit, and said he'd never felt such severe shaking. "I thought maybe an explosion had taken place," he said.
Nanbi said some of his co-workers were visibly upset by the tremors, but that there were no injuries or major damages.
A few items fell in Chaya Van-Essen's Beverly Hills home, including a photo of her grandfather. A longtime California resident, Van-Essen said she's grown used to earthquakes.

See photos of the damage in iReporters' homes »
Newport Beach resident Patsy Metcalf was at Island Real Estate when the quake hit. She's been with the company for 10 years and said the tremors were the strongest she's felt.
Metcalf said she first felt "a little jolt," which caused her computer to sway. Ten seconds later, strong shaking began.
After the vibrations passed, Metcalf went outside, where she reassured some panicked tourists from Canada. "They were quite shaken up," she said.
Danny Casler, 28, of Huntington Beach was woken by the tremors. He had his wisdom teeth removed last week and was at home recuperating from the surgery. "Everything in the house was shifting back and forth," he said.
Casler said he ran outside, where other neighbors had gathered. "My house was like a fun house," he said. "Everything was moving."
Michael and Charlotte Milch are moving from West Los Angeles to Brooklyn, New York, Wednesday. Although they felt the quake, the stacked boxes in their home remained intact.
The earthquake was a first for the couple, who said the experience was "one more item off our list of things to do before leaving California."
E-mail to a friend