(CNN) -- A fast-growing wildfire outside California's Yosemite National Park has destroyed a dozen homes and charred more than 26,000 acres of dry timber, the state's forestry department said Monday.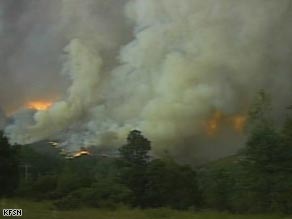 The fire blazed in areas that haven't burned in 100 years near Yosemite National Park on Saturday.
Some 2,500 firefighters are trying to control the blaze, which exploded in size on Sunday and is threatening 2,000 homes.
Firefighters are hampered by high temperatures and the dry timber that is fueling the fire, and has not burned in a century.
"Overnight the fire grew in all directions, and we did see it spotting ahead of itself on all sides yesterday about half a mile," said Sara Gibson of the California Department of Forestry and Fire Prevention. "We're seeing that because there's a heavy fuel load and mostly because of the really hot temperatures we're experiencing here."

Watch firefighters describe the spreading fire »
Because of the steep terrain, firefighters have attacked the "Telegraph Fire" from the air, using a military aircraft to dump retardant on the flames. They have managed to contain about 10 percent of the blaze, which has also destroyed 27 other buildings in addition to the 12 homes, according to the forestry department.
Three firefighters have sustained minor injuries, the department said.
Don't Miss
"This thing is burning in every different direction," forestry department spokesman Daniel Berlant told CNN on Sunday. "That's what made it so difficult for us to really get our ... containment lines around it."
Some 200 homes in Mariposa County on the outskirts of Yosemite park are "immediately threatened," and under mandatory evacuation orders, he said. Other residents are just being warned that they may have to leave "at a moment's notice" because of the approaching blaze.
He said the fire began Saturday as a result of someone target shooting in the woodland area near Yosemite Park, which is located about 200 miles east of San Francisco. The park remains open to visitors.
The fire charred some 1,000 acres near the town of Midpines, but quickly exploded in size to more than 16,000 acres.
By Monday, it had burned a total of 26,130 acres -- partly because firefighters were able to fly in aircraft to more accurately map the size of the blaze, Gibson said.
Berlant said the quickly moving fire is a major concern for California firefighters.
"When you see such erratic fire behavior -- we had reports of over 100-foot flames -- that's a huge challenge for us," he said.
"But we are doing our best right now and we're making good progress."
E-mail to a friend

All About California Department of Forestry and Fire Protection • Yosemite National Park