From Jamie McIntyre
CNN Pentagon Correspondent
WASHINGTON (CNN) -- Being drafted by a professional sports team is a dream of almost every college athlete, but, in a time of war, the Pentagon has decided duty should come before athletic glory for officers graduating from the nation's military academies.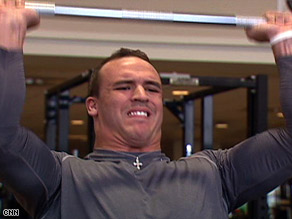 Lt. Caleb Campbell will not be allowed to pursue his NFL dreams this year, the Army announced this week.
A few months ago, the Army didn't feel that way. It granted Army 2nd Lt. Caleb Campbell, who had been taken by the Detroit Lions in the seventh round of the NFL draft, permission to pursue his dream of becoming a professional football player.
The Army had initially said Campbell, a football standout who played for the U.S. Military Academy at West Point, could fulfill his military obligation by serving two years as a recruiter in his spare time. Academy graduates are usually required to serve five years.
"You don't really every year get someone from the military academy pursuing their NFL dreams and having a legit shot at the NFL," the West Point graduate said.
But after a much publicized difference in policy between the Army and other services, Campbell's NFL dreams have been put on hold. The wartime exception for Campbell -- essentially his ticket out of joining the fight in Iraq -- rubbed many in the military the wrong way.
On Wednesday, the Army sent a letter to the Detroit Lions informing them that a change in Army policy means Campbell would have to cease getting ready to play for the football team.
Don't Miss
"Campbell has been directed to cease full-time participation in professional football to perform full-time traditional military duties," Army Adjutant General Lt. Col Jonathan Liba wrote to the Lions.
The letter said Campbell could apply for release from active duty obligations in two years.
The Army said in a statement that Campbell deserved the recognition for his football career, but must wait to play.
"He is an outstanding athlete who displayed the dedication, determination and discipline required of a champion. He has the qualities we expect of our leaders, and is the kind of leader our soldiers deserve," the Army said.
"This action was taken to uniformly apply military service obligations for all members of the U.S. Army," the Army said.
It was a decision that brought Campbell to tears, he told Michigan newspaper The Oakland Press.
"Oh yeah, I cried, because I wanted a shot," Campbell told the paper as he entered the Lions training facility. "I mean, like I said, I had the best of both worlds. It was a fun ride, it really was. To play with the best in the nation. But yeah, I was definitely upset that it was over. You know what, I got another job ahead of me that I'm really excited about, so I'm taking it with a smile."
Campbell told the Oakland Press that his first duty is to work as a graduate assistant football coach at West Point before reporting next year for officer training before being deployed.
Campbell acknowledged when he was drafted that he had mixed feelings about the possibility of getting the exception.
"Part of you wants to be there next to them because you've been by their side for the last five years. ... But then you have to look out for yourself," Campbell said. "I love to play football."
The issue came to a head when the Navy ordered Ensign Mitch Harris, whose blazing fastball and stellar strikeout record got the U.S. Naval Academy pitcher drafted by the St. Louis Cardinals, to put his Major League dreams on hold and report for duty aboard the amphibious transport dock USS Ponce.
The Navy is requiring Harris to serve his full five-year commitment, which he started when he reported for duty in mid-June in Norfolk, Virginia.
That policy stood for all Navy ensigns with big league dreams. Navy Secretary Don Winter wrote in a November memo, "As the Nation is at war, I believe it is inappropriate to continue this policy" of granting extra leave or early release to allow graduates to pursue sports careers.
When the Army granted Campbell an exception, it raised eyebrows with top Defense Department officials. They wanted to set a uniform standard across the department that military academy graduates would not be allowed to pursue sports careers immediately after graduation, but sources said the Army tried to keep exemptions for athletes like Campbell.
The Army argued that because manpower is at a premium, having an NFL player as a recruiter would be a valuable asset. But Defense Department pressure changed the Army's mind.
Campbell acknowledged when he was drafted that some might say, "This kid is getting out of the Army to go play football. They would think that I'm getting the same education but taking the easier way out, maybe."
E-mail to a friend

CNN's Adam S. Levine contributed to this report.
All About Iraq War • U.S. Military Academy at West Point • U.S. Naval Academy