By Drew Griffin and Kathleen Johnston
CNN Special Investigations Unit
ELK POINT, South Dakota (CNN) -- Farmland stretches as far as the eye can see -- row upon row of corn stalks waving in the breeze. It's an unlikely place to watch America debate its energy crisis but a battle is raging in this corner of South Dakota over what could be the nation's first new oil refinery in 30 years.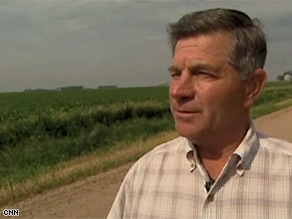 Farmer Dale Harkness wants future generations to enjoy the land in Elk Point, South Dakota, as it is now.
Plans were kept secret for months but residents of Union County have now voted in favor of rezoning land for a $10-billion refinery capable of converting 400,000 barrels of Canadian oil into gasoline, diesel and jet fuel every day.
But while the county as a whole favored the project by a 58 percent majority on June 3, most of the rural voters whose land would be affected by the refinery said no.
"I'll keep fighting it," said farmer Dale Harkness, whose front yard could one day face the refinery, which would also need a pipeline to be built.
He and his wife, Carol, vow to fight in the courts to prevent a project they say is speculative at best, and at worst will pollute the land, creeks and skies of this tiny town for generations to come.
"They will never build here. 150 years from now someone will be enjoying that land and this land," Harkness said, pointing to the property around him.

Watch farmers and the local mayor react to the refinery plan »
"They" is a Dallas-based company called Hyperion Energy, which says the plant will be a first-of-its kind "clean" refinery. It has never built a refinery and concedes it doesn't currently have the money to build this one either.
But project executive Preston Phillips said the project is necessary and his group is the one to build it.
"We wouldn't be spending the resources and the time if we didn't think we could," he said.
"We continue to push the ball down the road. There's $4-a-gallon gas at the pump. Crude oil is $120 to $140 a barrel. This project is at the right time today and the United States needs it."
The mayor of Elk Point, Isabel Trobaugh, agrees. She said the refinery would bring in hundreds of permanent jobs and thousands of construction jobs during the six years it takes to build.
Trobaugh, like the rest of her town, has been kept in the dark about the refinery plan, but that has not dampened her enthusiasm.
"They say that's the way big business does it," she said. "When they do their thing they don't want anyone to know they are coming in, so they keep it a secret."
Hyperion's involvement in Elk Point was initially dubbed "the gorilla project" because several large concrete gorilla sculptures were placed in the area now marked out for the refinery when nothing else was known.
But when details about the oil plant emerged, neighbor suddenly became pitted against neighbor, the Harknesses said. Some were willing to sell their land, others wanted to fight the development, Carol Harkness said. Divisions were even obvious in church where neighbors who once worshipped together found themselves unable to sit with one another for even an hour on Sunday, she said.
The initial secrecy by Hyperion created some of the ill will and raises other questions, said Mitch Pugh, editor of the nearby Sioux City Journal.
"I think there are a lot of unknowns," he said. "Those Hyperion people -- not a lot is known about them. They are not big players in the oil market. ... Where are they going to get the money?"
That's a question that Hyperion officials can't -- or won't -- answer. A request to the U.S. government for a guaranteed loan for the $10 billion in construction costs went nowhere. The company itself has mostly been involved in real estate dealings with oil and gas leases, projects that haven't generated the capital needed for the refinery.
Hyperion's chief executive is Albert Huddleston, whose wife, Mary, is the granddaughter of famed oil tycoon H. L. Hunt. A federal lawsuit filed by a former trustee of Huddleston's wife's multimillion-dollar trust claims Huddleston wasted money from that fund. Huddleston has countersued, charging the former trustee with his own fraud.
Huddleston declined to be interviewed by CNN but sent a videotape in which he talked about global politics and Canadian oil among other topics.
He also mentioned how he might build the refinery.
"I made a decision that if you came to me and had no permit for 30 to 35 years then I'm not going to take you seriously because I'm not going to believe that you can get it,'' he said on the videotape.
"So I'm not going to these strategic and financial partners and other people until we have a permit. And if we don't get the permit perhaps people are right: I just don't believe that's the case."
Mayor Trobaugh said she knows Huddleston will build the refinery and has the means to do it. But she's not willing to share the details, even with her constituents.
"No I wouldn't do that," she said. "What he told me was private about his own personal funding and that's not public."
E-mail to a friend

CNN's Marcus Hooper contributed to this report.
All About Oil Production and Refining • Energy Technology • Energy Policy