From Mary Scott Speigner
CNN's American Morning
ALLENTOWN, Pennsylvania (CNN) -- Allie Mulvihill may seem like your typical American teenager, but she has something weighing on her mind that most 15-year-olds do not: deportation.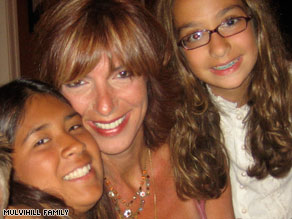 Allie Mulvihill, left, appears with her adopted mother, Lori, and her sister, Olivia.
Allie may be forced to leave the country because U.S. immigration officials are questioning the legitimacy of the Guatemala native's adoption by her parents, Lori and Scott Mulvihill, in 1994.
When the Mulvihills brought their then 2-year-old daughter to their home in Allentown, Pennsylvania, they believed she would be granted citizenship.
But U.S. immigration officials questioned whether the woman who gave Allie up for adoption in Guatemala was really her biological mother. Allie's birth certificate was issued 10 months after she was born, which raised suspicions in U.S. officials' minds that she was made available for adoption due to a baby trafficking scheme.
The Mulvihills, however, say it is not uncommon for birth certificates to be issued for children months after they are born in Guatemala, especially for children born to poor families, because families must pay for the certificates.
The Mulvihills also say U.S. embassy officials in Guatemala interviewed the woman claiming to be her biological mother at the time of the adoption and did not raise any concerns. The embassy officials, however, did not conduct a blood test of the woman that would have definitely proven the woman had given birth to Allie.
American Morning
Start your day with the 'Most News In the Morning'
Weekdays, 6 a.m. ET.
The Guatemalan government also never challenged the adoption, the Mulvihills said.
But U.S. immigration officials still aren't satisfied, and the dispute over her adoption has become a roadblock on Allie's path to citizenship. Neither Allie nor her parents have a way to track down her biological mother and the adoption agency used by the Mulvihills to adopt their daughter has gone out of business.
The fact that she cannot get her immigration status resolved means the fear of deportation continues to loom.

Watch Allie describe her fears »
"I don't know where I'm going to end up after all this... if it doesn't work out," she said.
Fourteen years and hundreds of forms later, the Mulvihills feel like they are running in circles and are saying that enough is enough.
Scott Mulvihill simply wants this battle to be over.
"We're told to go in one direction and when we do, we're told to switch gears and go into another direction. And when we look for counsel from the government to give us a definite answer, we get stuck with people who are supposed to be working on marriage contracts rather than immigration contracts," he said.
Now that she is getting older, the consequences of Allie's immigration status are getting tougher. Her lack of citizenship means she cannot get her driver's license, vote, apply for a job or qualify for financial aid.
"It's been really difficult, because I can't do all the things my friends can do," Allie said.
CNN contacted the U.S. Citizenship and Immigration Services about Allie's situation. Bill Wright, deputy press secretary of the USCIS, responded with a statement, saying, "Even in the most sympathetic of situations, such as this, we do not get to selectively dismiss our immigration laws. USCIS has been trying to work the Mulvihill family, and we continue to urge them to provide evidence that this minor is eligible for permanent residency."
Allie said this constant battle has left her feeling like a shadow.
"All along I've really known that I'm not like everyone else," she said.
Allie said she believes the strong support from her family, including her younger sister, Olivia, will give her courage to keep fighting for her citizenship. Olivia is a biological daughter of the Mulvihills.
"It's been great growing up here. ... My parents mean everything to me," Allie said. "We have so much fun together. They treat me as if I was like the same as my sister," she said as she began to tear up.
Allie's parents are not about to give up either. Lori Mulvihill said the hardest part is seeing their child upset about not having the same opportunities as other teens her age.
"Some people may think these are minor things, but you know this child is also afraid that she's going to be made to leave the country," Lori Mulvihill said, adding, "You watch your child with these fears and right now that's the hardest part."
But, for now, all the Mulvihills can do is wait.
E-mail to a friend

CNN's Zain Verjee and Melissa Morgenweck contributed to this report.
All About Adoption • Immigration • Guatemala