(CNN) -- How would the likes of Thomas Jefferson and Benjamin Franklin feel about the way the United States has turned out 232 years after declaring its independence?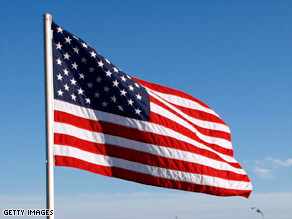 Most Americans say they're proud to be citizens, but most also think the Founding Fathers wouldn't be pleased.
Not pleased, a majority of Americans recently polled said.
According to a new CNN/Opinion Research Corp. survey, 69 percent of adult Americans who responded to a poll June 26-29 said the signers of the Declaration of Independence would be disappointed by the way the nation has turned out overall.
Twenty-nine percent responded "pleased," the only other choice given to the 1,026 respondents of the telephone poll.
Americans "didn't always feel that way," according to Keating Holland, CNN polling director. "In 2001, 54 percent thought that the signers of the Declaration of Independence would be pleased with the state of the country today."
Still, most who responded to last month's poll took great pride in their country.
Sixty-one percent said they were extremely proud to be Americans; another 28 percent said they were very proud. Seven percent answered "moderately," 2 percent said "only a little," and 1 percent answered "not at all."
Don't Miss
The percentage saying "extremely proud" was virtually unchanged from 2005. In 2003, 70 percent said they were extremely proud, and 55 percent said so in 2001. All polls were taken in the same time period, June 26-29, as the 2008 poll.
Another question asked in June: How often should a U.S. presidential candidate wear a flag pin (when dressed in other than casual clothes)?
Forty-one percent of respondents said a candidate should always wear one. Another 13 percent said "frequently," 16 percent said "sometimes," 19 percent said "only occasionally," and 9 percent said "never."
The questions carried a margin of error of plus or minus 4.5 percentage points, except the flag pin question, which had a sampling error of plus or minus 3 percentage points.
E-mail to a friend

All About Opinion Research Corporation • U.S. Presidential Election