(CNN) -- With oil prices hitting a record high on Monday, the chairman and CEO of Chevron, David O'Reilly, and Robert F. Kennedy Jr., senior attorney for the National Resource Defense Counsel, appeared on CNN's "Larry King Live" to discuss America's energy future.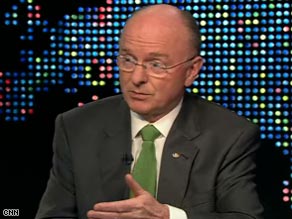 Chevron CEO David O'Reilly says his company's profit is about 7 percent.
Kennedy: The fastest way for us to solve our energy problems in this country is immediate conservation. If we improve fuel economy standards in our automobiles by one mile per gallon, we generate twice the oil that's in the Arctic National Wildlife Refuge. If we raise fuel economy standards by 7.6 miles per gallon, we can yield more oil than we are currently importing from the Persian Gulf.
O'Reilly: I agree, that first of all efficiency is the very first thing we ought to be working on. And there are new [fuel efficiency] standards in place that will obligate the automobile manufacturers to be more efficient and, in fact, you can see a shift already toward more efficient cars.
Kennedy: I'm involved with a company called Better Place, which made a proposal a couple years ago to Israel to get Israel completely off of gasoline cars within three years. And Israel is going to do that. Within three years, they will be off of gasoline automobiles.
We can do that in this country, too, using shifting to electricity and electricity gives us a lot more versatility, it allows us to harness wind. We have -- the Midwest this is the Saudi Arabia of wind. We have enough harnessable wind energy in North Dakota, Kansas and Texas combined to supply all the electrical needs of our country, even if every American were driving an electric car.
Don't Miss
We have the Scientific American just published a report that shows in 19 percent of the most barren desert lands in the desert Southwest, we have enough solar energy to provide all the electrical needs of our country. ...
What we need now is a national policy that says, OK, let's go out and get those electrons and get them into the marketplace.
O'Reilly: I encourage all these alternatives. I think there's room for all of them.
I'm very concerned because the reality is today that these alternatives are a very small percentage. And just like it takes a long time to drill an offshore well, it takes a long time to find and develop and put in the sort of equipment that Mr. Kennedy is talking about.
What bothers me about this is everyone portrays it as an either/or debate. It's not and either/or debate. ... We need alternative and we need efficiency and we need conventional oil and gas.

Watch O'Reilly discuss ballooning gas prices »
Kennedy: I really think that they talk windfall profit tax [on oil companies], whether it's good thing or it's a bad thing, it's not a long-term energy policy. What we need is really a long-term -- and drilling off the coast is not a long-term energy policy. What we need is an energy policy.
Today, Larry, we are borrowing a billion dollars a day mainly from countries that don't like us to import oil from countries that don't like us.
When I was a little boy, our country owned half the wealth on the face of the Earth. We are now transferring that wealth at a historic rate to other countries, again, mainly nations that don't like us.
We have solutions. Unfortunately, we have a Congress that's really brain dead. I'll tell you something that the Congress did today. First of all, they killed the investment tax credits for solar and wind which are absolutely vital to the growth of this burgeoning industry.
Second of all, today, Congress and the White House declared a moratorium, a two-year moratorium on any solar plants being built on federal lands while they study supposedly the environmental impact.
O'Reilly: In the first quarter, we made $5 billion, which is 7 percent of sales and exactly the median for all of the industry. ... The percentage has been about the same. You've got to keep in mind that as the revenues are going up, the costs are also going up. So it's not as if this is all going to the bottom line.
E-mail to a friend

All About Oil Prices • Gas Prices • Energy Policy