By John Zarella
CNN's American Morning

FORT LAUDERDALE, Florida (CNN) -- When Oliver Muigonade pulled his 28-foot open fisherman alongside the dock to fill up before heading for open water, the pump didn't stop until it hit nearly $800.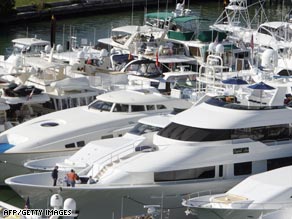 One upside to the fuel crunch is the plethora of better deals available to boat buyers, according to Chris Bailey.
"That's why the fish is very expensive," Muigonade says disgustedly.
Just one year ago, the cost of marine fuel was about $3.50 per gallon. Today, it's up to $5.00 a gallon. Fuel sales at the marina Muigonade uses are down about 10 percent, according to Bill Lawler, the assistant dock master.
"We're starting to notice more people [with] two credit cards coming inside to pay for their fuel," Lawler says.
Nearly everyone on the water is feeling the effects of rising fuel costs. Dock workers at Lauderdale Marina say people are still going out on the water but they're buying half as much fuel as they used to and making shorter trips. Instead of going out with only a couple of people, they're taking four in the boat.
Florida has more than 1 million registered boats, more than any other state, according to the Florida Department of Highway Safety and Motor Vehicles and the U.S. Coast Guard. Many of those are multi-million-dollar yachts, high-priced fishing boats and sailboats. Owners of high-end craft are not the ones hurting most when it comes to high fuel prices. It's the average pleasure boater who's feeling the biggest pinch, according to marina workers.

Rising fuel prices squeeze Florida boaters »
American Morning
CNN's John Zarella explores what new technologies could help sagging sales in the nation's boating industry.
Weekdays, starting at 6 a.m. ET
Richard Velasco, who's planning a fishing trip for Fourth of July weekend, says he's more selective about when he goes boating. With marine fuel running a dollar more than unleaded gasoline, he tries to go out when seas are calmer and takes shorter, slower trips to save on fuel. Still, he has no intention of giving up on boating.
"I still owe on my boat," Velasco says. "So, if I'm going to pay for it, I might as well use it once in a while."
One upside to the fuel crunch is better deals for boat buyers, according to Chris Bailey of BoatingBay.com. He says dealers in the northeastern United States are cutting prices and offering great incentives to those in the market for a new or used boat.
"The lowest prices I've ever seen," says Bailey. "Local dealers around here are becoming more creative with their incentives by including paying the lease on a car for the next three years [or] a truck to pull the boat."
Nationwide, boat sales are down about 12 percent, according to Bailey. Sales at the Bass Pro Shop in Fort Lauderdale, Florida, are running about even for the year, according to general manager Chuck Stevens. Even though he feels fortunate sales haven't dipped, he's noticed a big shift in what buyers want.
"You're seeing the customers who used to run 27- and 28-foot boats are going down to the 23- and 22-foot boat," Stevens says.
Smaller boats use less fuel and customers who can afford it are purchasing more fuel-efficient engines, --- which cost more to buy but less to operate --- according to Stevens. Boat manufacturers are moving quickly in hopes of plugging the leak in sales.
Visionworks of Tampa, Florida, manufactures an electric boat which it says runs for eight hours on 16 batteries. The boat putts along at 5 miles per hour, however, the company says it only costs about $2 to charge the batteries. Solar panels are also available to keep the boat charged and ready to go.
Electric boats have been around a long time but haven't been very popular even though they don't cost much to operate. Many boaters say the downside is they don't go very fast. One boat dealer interviewed by CNN remembers a time when he couldn't give away an electric boat. Now, he says he wishes he had some to sell.
Bailey expects to see trends towards more hybrid and fuel-efficient engines in boating, similar to the auto industry. He believes innovation will help the boating industry weather the tough times.
With no end in sight to rising fuel prices, industry experts predict boaters, like motorists, will do what they can to cut back. But unlike driving, which is often a necessity, boating is usually a luxury, and no one is certain at what point American boaters will simply decide to bail out.
E-mail to a friend

All About Gas Prices • Outdoor Recreation