WASHINGTON (CNN) -- Federal health officials are checking into the possibility that an outbreak of salmonella-caused illness originally linked to tomatoes may instead be linked to something else, they said Friday.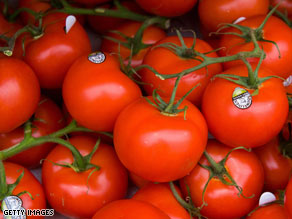 The spread of a salmonella-related illness may not be linked to tomatoes, according to the FDA.
"Produce investigations are very difficult, because a lot of times, vegetables are eaten all together," said Dr. Patricia Griffin, chief of the Enteric Diseases Epidemiology Branch at the Centers for Disease Control and Prevention in Atlanta, Georgia. That makes it hard to trace back any one item to a source of contamination, she added. "We continue to keep an open mind about the possible source of this outbreak, as does FDA."
Dr. David Acheson, associate commissioner for foods at the Food and Drug Administration, agreed. "There is a strong epidemiological association with tomatoes," but the agency is also "looking into other ingredients," he said.
The scare has prompted grocery chains nationwide to pull tomatoes from their shelves and some restaurants to stop offering them as ingredients.
Acheson said FDA officials and tomato growers were involved in "a two-way dialogue."
The CDC says the outbreak, which is linked to a rare form of bacteria called Salmonella Saintpaul, has spread to include 810 cases in 36 states and the District of Columbia.
And there is no sign that it's abating. "We are still getting reports of recent illnesses," Griffin said.

Watch a report on the outbreak »
The true incidence is probably much higher, because the agency has estimated that about 30 cases occur for every one that is reported.
Don't Miss
Griffin said the most recent report of someone becoming ill with the type of salmonella linked to the outbreak came June 15.
This weekend, teams of investigators will focus on fields, warehouses and distribution centers in Mexico and Florida as possible sources of the outbreak.
Investigators have collected about 1,700 tomato samples, "and so far, all of these have been negative," Acheson said.
He said the investigators' ability to find the source of the bacterium has been complicated by the practice among processors of repacking as many as 90 percent of tomatoes. It is not unusual for domestic and imported tomatoes to be packed in the same box, he said.
"This outbreak is not over," he said. "We are still putting all resources into it that we have."
But Acheson reiterated comments he made last week, that investigators may never find the source of the outbreak.
Griffin said it was not clear whether the outbreak is tailing off, because the average time between when a person becomes ill with the salmonella and when it is reported is 16 days.
"It's very difficult to say much about illnesses in June," she said. "Any illness that is occurring now would not be reported until several weeks from now."
Acheson added, "just because this outbreak is ongoing doesn't mean it's not tomatoes."
The bacteria can cause diarrhea, fever, abdominal pain, headache, nausea and dehydration. Infection is sometimes fatal.
E-mail to a friend

All About Food Safety • Food and Drug Administration