LOS ANGELES, California (CNN) -- Smoke climbed high into the sky Friday as firefighters struggled to contain two wildfires that combined near Big Sur in California, a fire official said.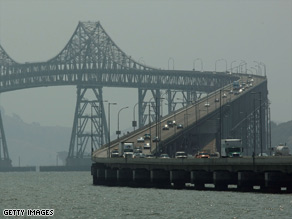 Smoke from hundreds of fires in Northern California creates a haze over the Richmond-San Rafael bridge.
The Gallery and Basin fires have destroyed 16 homes and burned 26,763 acres in Monterey County, said Mike Jarvis, spokesman for the California Department of Forestry and Fire Protection.
The combined blaze is less than 5 percent contained, Jarvis said.
Farther inland, the Indian Fire west of King City has destroyed more than 10 buildings and burned more than 59,700 acres, according to Jarvis.
Several areas near King City are under mandatory evacuation orders, and several firefighters have been injured, he said.
State and federal firefighters battling hundreds of blazes were preparing for a new generation of fires through the weekend.
More dry thunderstorms were predicted to sweep through California on Friday, with cloud-to-ground lightning that will hit the tinder-dry grass region like a blast furnace, forecasters warned.
CNN meteorologist Reynolds Wolf said high winds would accompany the electrical storms.
The state has battled more than 1,200 wildfires on state and federal land since last Friday, when 5,000 to 6,000 lightning strikes hit the region, Fred Orsborn, a fire information officer for the Northern Operations Center.
In Northern California, 193,470 acres have burned, Orsborn said.
Federal and National Guard aerial support has been sent to California to help battle the fires, but thick smoke from the blazes, like "early morning fog," has made it difficult for aircraft to reach the affected areas, Orsborn said.
Several counties said their damage from the fires reached at least $1 million, with some estimating damage of up to $4 million, according to the Forestry and Fire Protection Web site
The state's governor, Arnold Schwarzenegger, asked President Bush on Friday to declare a federal state of emergency in California, saying the incident was "beyond the capabilities of the state and affected local governments," according to a news release.
Many of the blazes were "spot fires" that affected small areas and were put out quickly, he said. But others spread and continue to burn.
In Mendocino County in Northern California, where there are 121 wildfires, 87 remain uncontrolled, and those fires are only about 5 percent contained, said Vikki Lowry, a public health spokeswoman for the county.
About 27,000 acres have been burned, and several voluntary evacuations are in place, she said.
The Shasta-Trinity area has 158 fires that have burned about 35,000 acres, according to the California Department of Forestry and Fire Protection's Web site. About 5 percent have been contained.
Two fires in the Sonoma Lake-Napa region in western California are still active. One of them, the Walker fire in Lake County, has destroyed 14,500 acres and is 70 percent contained, said a spokeswoman for the Sonoma Lake-Napa unit.
There have been no fatalities from the fires, but 27 injuries have been reported in both state and federal jurisdictions, Orsborn said. Seventeen homes have been destroyed, he said.
Because of the "aggressive initial action" to control the fires, about 320 had been contained as of Friday, Jarvis said.
Since the beginning of the year, there have been 35,155 fires nationwide that have destroyed approximately 2,031,659 acres, according to the National Interagency Fire Center Web site.
E-mail to a friend

All About Wildfires • Arnold Schwarzenegger