(CNN) -- Two adults and nine teenagers missing from an Outward Bound hiking program have been found safe in the central Sierra Nevada region, an Outward Bound official said Wednesday.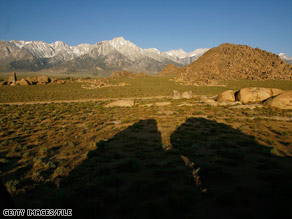 The Sierra Nevada rise above the foothills near Fresno County, California.
Brad Mushovic, executive director of Outward Bound's wilderness programs, said the group had hiked out of the wilderness to a store at Florence Lake, a bit north of the immediate search area.
From there, one of the adult staff members telephoned base camp operations, he said.
"Everyone's fine," Mushovic said.
Program staff members are working on the logistics of retrieving the hikers from the store, he said.
Outward Bound offers a variety of adventures designed to "inspire character development and self-discovery in people of all ages and walks of life through challenge and adventure," according to a statement on the company's Web site.
A search had been under way for the group missing in California's central Sierra Nevada after they failed to meet up with another hiker over the weekend.
Twenty experienced mountaineers began combing the wilderness area of Fresno County, California, late Tuesday, according to Fresno County Sheriff's Lt. Jay Stewart.
The hikers -- two adult leaders and nine teens, ages 13 to 16 -- were taking part in the two-week Outward Bound adventure, Stewart said.
As far as Bill Reid knew, his 14-year-old daughter's hike was proceeding normally. He never knew she had been missing since the weekend.
Outward Bound has "known about this [since] Sunday, and we didn't get notice about this until yesterday," Reid said Wednesday.
"It is a scary thing to know that your child has been missing for four or five days," Reid said. He said his daughter was sent to the camp with the understanding that there would be a communication link and that "she wouldn't be left alone in the wilderness."
E-mail to a friend

All About Missing Persons • Sierra Nevada