From Mike M. Ahlers
CNN

WASHINGTON (CNN) -- More than 7,000 facilities, from chemical plants to colleges, have been designated "high-risk" sites for potential terrorist attacks, according to the Department of Homeland Security.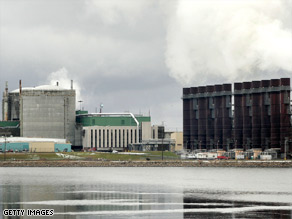 Experts long have worried that U.S. industrial facilities could be used as terrorist weapons.
Next week, the department will send letters to the facilities notifying them that they present the highest potential consequences in the event of a successful terrorist attack, said Robert Stephan, the agency's assistant secretary for infrastructure protection.
The facilities include chemical plants, hospitals, colleges and universities, oil and natural gas production and storage sites, and food and agricultural processing and distribution centers, Stephan said.
The names of the sites will not be released to the public.
The department compiled the list after reviewing information submitted by 32,000 facilities nationwide. It considered factors such as proximity to population centers, the volatility of chemicals on site and how the chemicals are stored and handled.
Experts long have worried that terrorists could attack chemical facilities near large cities, in essence turning them into large bombs. Experts say it is a hallmark of al Qaeda, in particular, to leverage a target nation's technological or industrial strength against it, as terrorists did in the September 11 terrorist attacks
Don't Miss
The department said Friday that the list is the first step in its plan to reduce the consequences of an attack.
It first compiled a list of approximately 320 "chemicals of interest" and determined what amounts of each chemical should raise concerns, Stephan said.
Then came the consequence analysis, which examined where a facility was and the expected impact of a chemical release or an explosion, Stephan said.
"We looked at how the chemicals were packaged for storage, how they were containerized for shipment," he said. "Could the chemicals be taken off-site by one person with relatively little effort, or would they require a crane or some type of giant vehicular conveyance?"
The 7,000 facilities will have 90 days to conduct "site-specific" assessments of security vulnerabilities.
In the coming months, the department will conduct additional assessments, divide the facilities into four tiers and help the plants develop security plans. First will be Tier 1, consisting of plants with the biggest potential for disaster, Stephan said. It will then check to ensure that they are complying with the security plans, he said.
The regulations address a variety of factors, including fencing, background checks of employees and restrictions on who can enter plants, Stephan said.
"I want to put enough complexity into the mix that al Qaeda will go somewhere else," he said. "I'm trying to complicate these guys' lives."
Stephan said the agency is trying to address three threats posed by chemical facilities: the possibility of hazardous materials leaks, fires and explosions; the possibility that materials could be stolen and used elsewhere; and possibly dangerous contamination of chemicals.
Critics of the process said the government should require industry to move to fewer hazardous chemicals. They also say the department is relying on information provided by industry, instead of independently gathering information.
Stephan acknowledged that the information came from the facilities, but said there are "significant penalties" for providing false or incomplete information.
One critic said Friday that the chemical security law is flawed because it does not include nuclear plants, which are regulated by the Nuclear Regulatory Commission, or water treatment facilities.
Many or most of the nation's 3,000 drinking water facilities use chlorine gas, which puts "millions of people at risk," said Rick Hind of the Greenpeace Toxics Campaign.
Hind also faulted the agency's four-tier system of categorizing risky plants. He said officials have admitted in the past that 3,400 plants pose a risk to 1,000 or more people, but only 100 plants would make the top tier. Hind said that all 3,400 plants belong on the top tier, since 1,000 casualties "we think is a 9/11-magnitude" consequence.
E-mail to a friend

All About Terrorism • U.S. Department of Homeland Security • Al Qaeda