From Larry Lazo
CNN

WASHINGTON (CNN) -- For only the second time in its 125-year history, the American Red Cross has borrowed from banks -- this time, to provide services for the victims storms and flooding in the Midwest.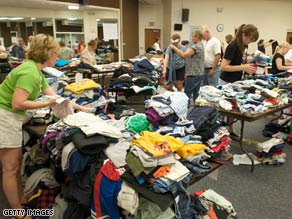 Red Cross volunteers sort donated clothing for flood victims at Prairie High School in Cedar Rapids, Iowa.
"We anticipate right now we will need in excess of $15 million to cover the cost of the last six weeks of storms," spokeswoman Suzy DeFrancis said.
The agency said it has 3,500 personnel in the Midwest to help flood victims and has been providing food, counseling and cleanup kits to many people who have been forced to flee their homes.
The last time the Red Cross borrowed money was in 2005, when it took out $480 million in loans from banks after Hurricane Katrina.
But the agency paid off that debt with more than $2 billion in donations from the American public, and it is counting on the generosity of Americans once again.
"I think when they understand the need and how great it is in the Midwest, particularly for these people who lost everything, that they will continue contributing to the Red Cross," DeFrancis said.
The slow economy has resulted in lagging donations, the Red Cross said. But one critic said the charity is struggling because Americans don't believe that it is spending its money judiciously.
"I think Americans have come to doubt the Red Cross' ability to spend their money wisely," said Paul C. Light, a professor at New York University's Wagner Graduate School of Public Service. "And Americans can now give directly to disaster through the Internet through much smaller organizations that are locally based, and I think that's where the money is going. They just don't have confidence in the Red Cross anymore."
The Red Cross has had its share of problems. It has gone through five CEOs in six years. The last one, Mark Everson, resigned because he was having a personal relationship with a female subordinate.
"There's not only been a lot of turnover at the top, the Red Cross just sliced off a huge number of headquarters personnel to try and flatten the organization," Light said. "There's a lot of unease in the organization."
DeFrancis said that although the Red Cross has had its troubles, Americans still see it in a favorable light.
E-mail to a friend

All About International Federation of Red Cross and Red Crescent Societies • Hurricane Katrina • Mark Everson