From Paul Courson
CNN
WASHINGTON (CNN) -- The U.S. Senate on Wednesday honored 107-year-old Frank Woodruff Buckles, the last living American World War I veteran.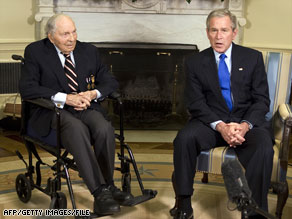 President Bush, right, honors Frank Buckles, "the last living Doughboy from World War I," in March.
Buckles is the last survivor of the more than 2 million U.S. military men sent overseas to fight in what was called the Great War.
"I am greatly honored," Buckles said.
Former Sen. Bob Dole, a World War II veteran, paid tribute along with Sens. Arlen Specter, Harry Reid and Robert Byrd. Byrd is 90 years old and the longest-serving U.S. senator.
President Bush met with Buckles in March, thanking the veteran for his service and his "love for America."
Bush called Buckles "the last living Doughboy from World War I" and said the centenarian still has a crisp memory. "Doughboy" was a slang term used for U.S. infantrymen.
"Mr. Buckles has a vivid recollection of historic times and one way for me to honor the service of those who wear the uniform in the past and those who wear it today is to herald you, sir, and to thank you very much for your patriotism," the president said, seated next to Buckles in the Oval Office. "We're glad you're here."
Buckles, who turned 107 in February, lied about his age to join the U.S. Army at the age of 16.
During an interview with a television crew from the Department of Veterans Affairs in March, the old-timer reeled off his military serial number, but noted he's still got his dog tags to remind him.
He served before there were Social Security numbers.
According to an autobiography released by the Pentagon, Buckles was eager to join the war. He said his recruiter in the summer of 1917 told him, "The Ambulance Service was the quickest way to get to France," so he took training in trench casualty retrieval.
Buckles eventually was an officer's escort in France before joining a detail transporting German prisoners of war.
He lives on his family's cattle farm near Charles Town, West Virginia.
E-mail to a friend

All About U.S. Senate • World War I