(CNN) -- Same-sex marriages will put "a shame" upon the United States, one person wrote Tuesday; but for another, the legalization of the unions in California made it seem as though "life is opening up."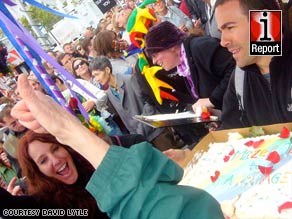 IReporter David Lytle says the mood was celebratory Monday outside San Francisco City Hall.
The diversity of views among contributors to iReport.com on the day same-sex couples flocked to courthouses to wed mirror many of the reactions across the country.
Some religious groups have threatened to fight the decision by California's Supreme Court that a state ban on same-sex marriages was unconstitutional. Gay rights groups promised to defend it and push for broader applications. Others were ambivalent, or wondered, what's the big deal?
Read more below about what iReporters are saying about California's decision and the weddings now happening. Some comments have been edited for length and clarity.
socratesfive: This ruling feels like it is an oppression of my religious beliefs. The ruling tends to minimize the meaning of marriage and has an adverse impact on our society overall.

Watch a lesbian couple, together for decades, finally wed »
TheWarden: Even though pro-gay and -lesbian camps may see some victories from state to state, many states will shut the doors with a solid thump with their conservative base strength. When, or if, the issue comes up in the more conservative areas of the nation, the drafting of legislation supporting gay marriage in these regions is remote.
Liz1016: For those that say it's unsafe for kids to be raised in a gay family, there are plenty of straight couples with kids that should not be allowed to have kids! What about the mother that just left her 2-year-old at a Wal-Mart with a note? And for those that think it's wrong because of the Bible, the Bible says we shall not judge others. If you believe it's wrong, fine -- don't marry someone of the same sex.
Don't Miss
kayalaynemom: I believe that God detests homosexuality BUT I do not hate anyone for the way that they live their life. God tells us as Christians we are not to judge and that we should be the salt and light of the Earth. How can we expect people to come to Jesus if they can't see him through us?
huckf1nn: People love to say that gays are promiscuous. By denying gays the opportunity to enter into a committed relationship, you are in essence promoting -- no requiring -- that they have sex outside of wedlock. Oh sure, gays could choose to just never have sex, ever. But how dare you impose that on someone else without being willing to make the same sacrifice.
shark: I'm the same person as I was before I came out. I want the same things: a marriage, a family. And now I can get married on either coast and have it recognized in three states. It's like my life is opening up.
foreverkind: I am a lesbian mother of four, ages 10 to 18. My children love and respect both of their mothers, and they don't see what all the big deal is about.
BillSargent: The insanity is that allowing gay people to marry is even in question. It should never have been a question in the first place as it should never have been a question as to whether slavery was right.
tstroot84: GOD DID NOT CREATE ADAM AND STEVE! IT WAS ADAM AND EVE! HE CREATED MAN AND WOMAN! Homosexuals who say they go to church make me sick!! Read the bible, idiots! Remember Sodom and Gomorrah? Legalizing same-sex marriage is a shame put upon our country.
musicman1: The arguments made both for and against this topic are so incredibly weak that they're not worth repeating again. It's not the same as marrying a dog, but it's not a guaranteed right either. If it were, it wouldn't be up for vote. We don't make people vote on obvious things very often. When was the last time you voted for pedophilia to be a crime or for taxes to be continued? These are fairly obvious. Obviously, our government feels that this isn't a black-and-white issue.
wthcares: Many people are married at City Hall or the county clerk's office. Does that make the marriage of those people any less official than a couple who was married in a church? Of course not! The state recognizes both couples in the same way by law. So, how can a civil ceremony negatively affect my or your relationship/marriage? It can't unless we obsess over it.
stufn00b: I don't get why people are so damned concerned about what other people do in their own bedrooms. Don't give me that crap about, "What do you expect me to tell my children?" I don't care what you tell your ugly kids. You're going to tell me that two guys have to be second-class citizens because you can't talk to your kid?
Covered4Him: The Bible does say that homosexuality is indeed sinful. The scripture is quite clear on this point. However, it also says that I am a sinner, too. I daily struggle against my flesh, but through Christ I gain victory. We are all sinful in some way or another -- "all have come short of the glory of God." No one person is better than any other.
E-mail to a friend

All About Same-Sex Marriage