GUANTANAMO BAY, Cuba (CNN) -- Accused September 11 mastermind Khalid Sheikh Mohammed used his first day in court to intimidate his co-defendants into refusing their right to counsel, a lawyer involved in the proceedings said Thursday.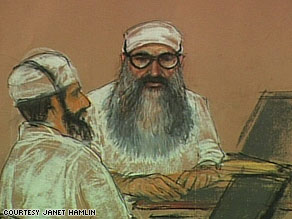 Khalid Sheikh Mohammed, right, is seated in the courtroom near co-defendant Walid bin Attash.
Maj. Jon Jackson was one of several attorneys who appeared before a military judge Thursday to represent five al Qaeda operatives accused in the September 11 attacks.
By the end of the 10-hour arraignment, Mohammed and co-defendant Ramzi bin al-Shibh had informed the judge that they wished to die as martyrs, and all five men had refused their right to counsel, saying that they recognized only Sharia, or Islamic law.
Jackson said his client, Mustafa al Hawsawi, did not decline representation by choice but by force.
"The only thing I'm privy to say is Khalid Sheikh Mohammad saying, 'What? Are you in the American army now?' " Jackson said after the arraignment.
"It was clear that Mr. Mohammed was attempting to intimidate Mr. al Hawsawi into not accepting me as counsel," said Jackson, whose client is accused of helping finance the attacks.
Jackson said Mohammed's comments undermined his efforts to build a relationship with his client, a task that he and other defense lawyers have described as difficult to begin with.
Defense attorneys had asked for Thursday's proceedings to be delayed, arguing that they did not have enough time with their clients since the charges were announced in May.
The lawyers suggested that their clients waived the right to an attorney without fully understanding what they had done.
"I had spent about 20 hours with my client; it was hard to build rapport with him. We started to gain some trust, and to have that destroyed by walking into court after five minutes was pretty bad," Jackson said.
Thursday's hearing marked a series of firsts following years of struggles by the Bush administration to craft a process for bringing the detainees to trial.

Learn how the tribunal will work »
It was the first time reporters were able to see the al Qaeda suspects, who were all in the same room for the first time since their arrests in 2002 and 2003.

Watch how the defendants surprised the judge »
Don't Miss
The defendants were transferred to the U.S. military prison at Guantanamo Bay in September 2006. The charges against them include murder in violation of the law of war, various terrorism counts and intentionally causing bodily injury.
Bin al-Shibh, the only defendant in leg shackles, entered the courtroom with a defiant swagger, laughing at media members who were straining to get a look at him.
Wearing a prison outfit and a foot-long gray beard, Mohammed appeared much thinner than when he was captured five years ago.
The defendants were seated at separate tables. None stood when Marine Col. Ralph Kohlmann entered. They spoke freely among themselves throughout the proceeding, and Mohammed appeared to be instructing the others.

Learn more about the suspects »
Mohammed and another defendant, Ali Abdul Aziz Ali, both accused their captors of torturing them while in American custody.
When Kohlmann explained to Aziz Ali that he would have free representation, Aziz Ali responded, "For five years, the torture was free of charge, too.
"For five years they torture. After the torture, they transfer to us to Inquisitionland in Guantanamo," Mohammed told the court.
Mohammed and bin al-Shibh, who is accused of helping coordinate the attacks, told Kohlmann that they want to die as martyrs.
"If I'm killed, I will be killed for the sake of God," bin al-Shibh said. "I've been seeking to be a martyr for years."
The judge asked Mohammed numerous times whether he understood that he faces the death penalty.
"That is what I wish. I wish to be martyred," he said.
None of the defendants entered pleas at the nearly 10-hour arraignment, which was held at the U.S. prison camp where they have been held since 2006.
Bin al-Shibh's lawyer said the defendants' decision to refuse counsel indicated that they were "confused" about the process.
"I think it's inconsistent to say that you only want to honor a Sharia law court and then submit yourself to an American court by representing yourself," attorney Thomas Durkin said.
Durkin and Kohlmann had several contentious exchanges during the proceedings, as Durkin argued that defense lawyers needed more time to build the trust of their clients.
In addition to Mohammed and bin al-Shibh, Walid bin Attash is standing trial, accused of helping train the hijackers.
Mustafa al Hawsawi and Ali Abdul Aziz Ali are also accused of arranging financing for the plot.
Critics have called Guantanamo Bay a legal "black hole" for detainees who the United States says are not protected as prisoners of war under the Geneva Conventions.
The process has been roundly criticized by defense lawyers, who are fighting to keep hearsay statements and evidence obtained through coercive interrogation techniques from being used against their clients. For example, the U.S. government has admitted to using the simulated drowning technique known as waterboarding, long considered a form of torture, on Mohammed.
The American Civil Liberties Union, which has been monitoring the cases, said the verdicts won't be considered legitimate without constitutional guarantees for the accused.
"No matter who is representing these defendants, many of whom have been abused and tortured, there needs to be a process in place that adheres to the values of due process and the rule of law that are the foundations of American justice -- and this isn't it," Anthony Romero, the ACLU's executive director, said in a written statement.
The actual charges against the men were sworn against them May 9. And although prosecutors are pushing for a September trial, officials familiar with the process expect long delays and much legal fighting. They say a trial is probably at least many months away.
E-mail to a friend

CNN's Kelli Arena, Kevin Bohn, Carol Cratty and Mike Mount contributed to this report.
All About Khalid Shaikh Mohammed • Al Qaeda • Guantanamo Bay