By Nicole Saidi
CNN
(CNN) -- Soaring gas prices, nearing a national average of $4 per gallon, are causing long-distance commuters to burn holes in their wallets along with the fuel in their gas tanks.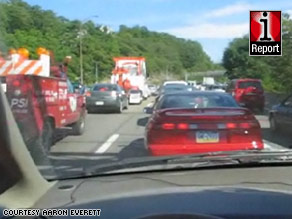 This is what Aaron Everett sees for most of his evening commute in Pittsburgh, Pennsylvania.
One iReporter, who asked not to be identified, plods through a three-hour commute each way, every day, that includes driving and public transit. iReport.com: See the path he takes to work
He does it for the sake of lower housing prices.
Most mornings, he leaves at 6:30 a.m. and might get home sometime between 10 and 11:30 p.m., depending on conditions. There's a 30-mile drive each way that requires him to fill his four-cylinder vehicle's gas tank seven times per month. At around $4 per gallon, each trip to the pump costs him about $50, creating a significant expense.
His travel time doesn't stop when he stops driving. The 30-mile car trip takes him to a commuter rail train. He then heads to the New York subway system and reverses the route on the way home. It's a difficult commute that costs $200 per week and becomes more expensive and more crowded as gas prices rise.
On the weekend, he says he is so tired that he spends much of the time sleeping. Despite his commuter fatigue, he tries to make time to see friends and keeps up with people he knows using Facebook.
One day, he hopes, he won't get home so late that he misses his young son's waking hours.
But he also says he won't be living this way forever. "It's permanent in the sense that I've been doing it for two years, but for the long term, it's not something I'm going to be doing forever," he said. "It's just not possible."
Don't Miss
The iReporter's story on iReport.com received more than 130 comments from readers like footballer, who wrote in about their own commutes and how costly they are in time and money.
"Dude, you need to figure something out," footballer wrote. "I'm not hammering you because you sound like a hard working guy who is just trying to succeed. It's a shame, though, that you don't see the time you're wasting. For someone who doesn't mind working, can't you see the benefit in having more free time?"
The iReporter wrote two responses to all the comments, telling readers he understood their concerns, but felt in his heart he was making the right decision.
"Please note (in response to comments) I am not complaining," he wrote. "I am just telling my story ... yes, it's been a hard two years, but it will all be worth it when I move closer, or get a job closer to home."
Another Pennsylvania resident, Aaron Everett of North Versailles, shared his own story of a long commute. Everett said he wishes he could take public transit to work. iReport.com: Everett's story
He recorded video behind the wheel of his onerous morning drive to illustrate the thick traffic he faces each day. He said he felt little danger in doing so since the car wasn't making any progress through the sea of brake lights.

Watch brake lights aglow in Pittsburgh-area gridlock »
The 15-mile daily journey often takes 45 minutes in the morning and up to an hour and a half in the evening, he says.
"It's frustrating that there's no good way to get from Point A to Point B," says Everett, who decided that he would rather have a home with a large backyard for his kids and adequate parking than a smaller lot in the city. Still, he bemoans the thick traffic and the tunnel along his route that bottlenecks drivers and exacerbates an already difficult commute.
"Every day, I sit watching the gas gauge go down and the clock tick by," Everett wrote. "Welcome to commuting in Pittsburgh, Pennsylvania."
The problem isn't isolated to the Northeast. Even Southerners are facing lengthy drives. Derek Letson, a 24-year-old Scottsboro, Alabama, native, travels 55 miles to work each morning.
iReport.com: See Letson's route and read about Southern commutes
He and his wife have cut back on eating out and are even eating lunch at work to afford the gasoline. He says a lot of people in his area drive long distances to their jobs because that is basically the only transit option available to them.
He enjoys the beauty of the drive and all the interesting things he sees on the way. Beautiful woods, fishing docks on the Tennessee River and the characters along the road are all features of the trip, he says.
"I drive into a small town called Guntersville, where every morning there's a man in his 50s walking his dog and listening to his Walkman and doing a little jig," Letson says. "This guy is out there in light rain, sleet or snow."
But pushing these pleasantries aside, Letson says he imagines a bleak future if things don't improve.
"If the government doesn't do something about this, we will see a depression, not recession, in the South," Letson says. "Because some people won't be able to even drive to work. We will see the sick unable to get the medical attention they need."
The three men said they will plod through their long commutes until things improve. Until then, they'll keep opening up their wallets at the pump and watching the dashboard clock as day turns into night.
E-mail to a friend