By Kathryn Johnson
Special to CNN

Editor's note: Former Associated Press reporter Kathryn Johnson is writing a memoir titled "Let Kathryn In," which includes stories about the civil rights movement.
ATLANTA, Georgia (CNN) -- It was eerie. Just hours after the Rev. Martin Luther King Jr. had been assassinated, I was in his home with his widow and eldest child, watching TV coverage of his death in awed silence.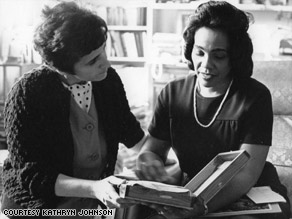 Kathryn Johnson, left, in an undated photo, spent hours with Coretta Scott King the night her husband was murdered.
I felt a strong sense of unreality, being inside the home of the world-renowned civil rights leader at the end of his life. This was because during 18 years as a reporter for The Associated Press, I had been there early in King's courageous crusade that eventually led to his untimely death.
How I ended up at the King home on the night of April 4, 1968, began about an hour earlier when I first heard the terrible news on a car radio.
I was with a date in Atlanta, driving through a springtime rainstorm to see a movie, when the bulletin broke. My date immediately turned his car around in the direction of the King home.
During the short drive through the hard rain we were both silent, stunned and locked in our own memories of King.
I remember thinking, "I always knew this could happen," because I had heard his wife Coretta Scott King speak often of forebodings about his death. Now, that horrible possibility had become real, but I didn't want to believe it.
When we arrived, I made a dash from the car through the rain heading for the front door of King's modest home, which was ablaze with lights. I recognized a New York Times reporter and another reporter on the porch talking to a policeman.
"Can we go in?" I asked. The officer replied, "No. No reporters are allowed in."
As we stood on the porch, the door opened to let someone out. Down the long hallway of the home I could see the newly widowed Coretta, clad in a rose pink nightgown and robe. Spotting me, she told the police officer, "Let Kathryn in."
The house was jammed with visitors but Coretta, desiring privacy and still recovering from surgery performed weeks earlier, went to her bedroom, gesturing to me and her eldest daughter Yolanda, nicknamed Yoki, to come along. She then lay back against the large pillows of her king-sized bed.

Reporter describes evening with King's family »
The three of us were the only ones in the bedroom and were mesmerized before the TV screen, watching King's face and listening to his powerful and prophetic final speech in Memphis, Tennessee.
Coretta wept softly as her husband's voice thundered, "I am not afraid. ... Blessed is the name of the Lord."
Of course, I didn't know what she was thinking -- but if I had to guess, maybe she was wondering about her uncertain future and that of her children. And listening to her husband's speech, perhaps she began to think about what could she do to carry on his civil rights legacy.
The phone rang and I heard Coretta say, "Mr. President," and knew that Lyndon Johnson was calling from the White House to offer his condolences. I left the room briefly for her conversation with the president. Coretta did not speak of the call, nor did I ask about it.
Don't Miss
Instinctively, I wanted to respect her privacy. She had returned quickly to her intense concentration, watching her husband on TV.
Twelve-year-old Yoki, dressed in pajamas and robe with her hair in pink curlers, lay on her stomach on the bedroom floor, her face propped between her hands.
Like her mother, she displayed little emotion -- I wonder if she was trying to realize what the loss of a father meant.
Later that week, I saw Yoki had taken her younger brother, 7-year-old Dexter, on her lap and told him about their father. "I'm not going to cry, I know daddy's gone to heaven," Yoki said, tears streaming down her face. "Maybe someday I'll meet him there."
On the night of King's death, a photographer with King's organization, the Southern Christian Leadership Conference, asked to record events in the family's home. He came in and began snapping pictures.
Not wanting to intrude at such a time, I flopped on the floor beside Yoki so as to stay out of the way of the camera. The three younger King children were in bed.
We silently watched King on TV speaking to a crowd of some 2,000 people in Memphis -- most of them members of the striking garbage workers' union.
"I just want to do God's will," King said the night before his death, his words punctuated by thunder crashing outside the Mason Temple hall.
"And he's allowed me to go up to the mountain, and I've looked over and I've seen the Promised Land. I may not get there with you. But I want you to know tonight that we as a people will get to the Promised Land."
Sitting on the floor of the Kings' bedroom and listening to that rhythmic, intellectually charged oratory on TV on the night of his death was stunning.
"We've got some difficult days ahead, but it really doesn't matter with me now, because I've been to the mountaintop."
Coretta displayed the same resolute will and remarkable composure that night as she showed throughout the next five days until King's funeral in Atlanta. She knew that death -- which had dogged her husband's footsteps -- had finally caught up with him.
Now, two years after Coretta's death at age 78, and nearly a year after Yolanda's death at age 51, I feel a strong sense of privilege at being in the King family's home during that difficult time.
Together that night we were forced to realize that never again would we hear new words from the powerful voice that had changed the nation.
E-mail to a friend

All About Civil Rights • Martin Luther King Jr. • Racial Issues