By Ian Mount
(Budget Travel) -- Dancing the tango in Argentina takes more than just a command of the steps and some semblance of rhythm. You also need to understand the subtle signals that regulate life in a milonga, or tango hall, where tradition still holds great sway. With one misstep, you may kiss finding a partner good-bye.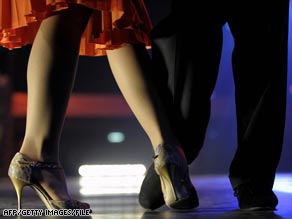 The golden rule of tango is the less chitchat, the better.
Partnering up
The man always invites the woman to dance, but not verbally. Instead, he tries to catch his desired partner's eyes from across the room and nods, a move called a cabeceo. This allows a woman to avoid a man she doesn't want to dance with and saves the fragile male ego the humiliation of being turned down publicly. "Some even consider it a faux pas to walk over to a woman's table when she is not looking at you," says Julio Balmaceda, a tango dancer and instructor in Buenos Aires.
Switching it up
After a woman accepts a man's cabeceo with a nod or a smile, they meet on the dance floor. A tango at a milonga is essentially a 12-minute date -- pairs usually start dancing at the beginning of a three-to-four-song set called a tanda and then switch partners during the musical interludes that separate the sets. Breaking off a dance in the middle of a tanda is considered an insult. A pair who dance together for three tandas in a row are proclaiming themselves off-limits to other prospective partners.
"Unless you want to dance with the woman you came with all night, you have to make signals to other men that it's all right to ask her to dance -- by dancing with other women yourself or sitting at separate tables, for example," says Marina Palmer, author of "Kiss & Tango: Diary of a Dancehall Seductress."
Dressing up
Sneakers and jeans are acceptable at some informal dance halls, but at traditional milongas, men wear suits and dress shoes and women opt for clingy dresses and spiky heels. "People with beat-up shoes don't get asked to dance -- it's similar to smelling bad or having stained clothes," says Alicia Muñiz, co-owner of the Buenos Aires tango shoe store Comme Il Faut. BudgetTravel.com: Buenos Aires trip coaching
Manning up
With so many people sharing such a tight space, collisions are inevitable -- especially when men go against code and lead their partners the wrong way (the right way is counterclockwise, around the floor). Other times, accidents happen when a man leads his partner into showy kicks or spins -- a crowded milonga no-no. If two couples bump into each other, the man who caused the collision is expected to extend a verbal apology to the offended couple.
But the golden rule of tango is the less chitchat, the better. "If you or your partner makes a mistake, stumbles, or steps on the other's toes, try to ignore it and go on as if nothing happened," says Palmer. "The idea is to hang on to the moment and the intense communion between two dancing souls. If you start apologizing too much, the spell is broken."
WHERE TO TANGO
If you want more than a tourist-friendly tango show, here are three authentic Buenos Aires milongas. Don't plan on arriving before 11 p.m.
Salón Canning: Informal dances are held on Mondays, Tuesdays, and Fridays, drawing a young crowd. Jeans and sneakers are OK. 1331 Scalabrini Ortiz, 011-54/11-4832-6753, parakultural.com.ar, $6 cover.
Niño Bien: Thursday is the big night at this belle epoque dance hall. It attracts an older, more classically dressed crowd. 1462 Humberto I, 011-54/911-4147-8687, $5 cover.
La Calesita: On Saturdays in the summer, residents in the Nuñez neighborhood throw an outdoor party that combines two Argentine favorites: tango and barbecued steak. 1350 Avenida Comodoro Rivadavia, 011-54/11-4743-3631, $4 cover.
E-mail to a friend

Get the best travel deals and tips emailed to you FREE - CLICK HERE!
Copyright © 2009 Newsweek Budget Travel, Inc., all rights reserved.
Note: This story was accurate when it was published. Please be sure to confirm all rates and details directly with the companies in question before planning your trip.
All About Travel and Tourism