By Rachael Jackson
(Budget Travel) -- No one knows better than the police which tricks criminals are using to prey on unsuspecting tourists.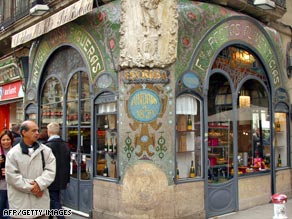 Barcelona police advise visitors to be wary of strangers who are too friendly.
BARCELONA You're pretty safe walking anywhere in the main tourist areas, but be wary of strangers who are a little too friendly, says a police spokeswoman who was not authorized to give her name. If someone asks how you like Barcelona or tries to hug you, hold on to your valuables tightly: Pickpockets use techniques like these to throw people off guard. The police department has a special unit that roams crowded areas like La Rambla disguised as tourists, right down to the maps and cameras, to watch for thieves in action.
CANCÚN The vendors selling jewelry on the beach will say just about anything to get you to buy their merchandise. Police say you should be skeptical of their claims. Jewelry sellers often tell tourists that their wares are made of real silver and then quote prices starting at around $20, says Verónica Fajardo, a spokeswoman for the Cancún police. But she points out that the jewelry is almost always made from cheap metal that will turn yellow or lose its sheen within weeks. "Tourists from the U.S. and Canada are always looking for a bargain," Fajardo says. "They might get a cheaper price [on the beach], but the jewelry is definitely not of the highest quality."
LAS VEGAS If your cab ride from the airport to the Strip takes more than 20 minutes, you've probably been the victim of a "long haul," in which the driver chooses a circuitous route to jack up the fare, says police officer José Montoya. The state taxi authority says reports of long hauling are on the rise. Police urge anyone who believes he's been taken for a ride to file a complaint at taxi.state.nv.us.
LONDON Always take the city's old-fashioned black cabs, which are licensed by the city, rather than the so-called "minicabs" that sometimes wait outside theaters, restaurants and bars at night, says Scotland Yard spokesman Alan Crockford. In 2006, an average of 10 women a month were assaulted by the drivers of minicabs, according to the most recent data available from the London Metropolitan Police. Minicabs belonging to a car service are licensed, but even those cars are only legally permitted to pick up passengers who have called to make a reservation -- they can't stop for people on the street. Contact the Transport for London office (011-44/20-7222-1234, tfl.gov.uk) if you want a list of licensed minicab company numbers, Crockford says.
MONTREAL Police commander Alain Simoneau says the theft of stereos, laptops, iPods and GPS devices from unlocked cars is a huge problem. Cars in Old Montreal are often targeted, and Simoneau says you should put your belongings in the trunk when you park there. Police officers have begun placing pamphlets on car windshields and in restaurants in the area as a reminder for tourists to lock up. Not doing so could even cost you money. Leaving your doors unlocked is against the law in the province of Quebec and punishable by a fine of at least $30.
NEW ORLEANS A common scam in the French Quarter goes something like this: A man approaches you and says, "Bet you $5 that I can tell you where you got your shoes!" Whether you accept the bet or not, he adds, "On your feet on Bourbon Street," and demands the money. Authorities say some people pay up just to avoid a confrontation. If a stranger tries to entice you into a bet, police officer Shereese Harper suggests you keep walking and don't say a word --responding encourages the scam artist to harass you.
ORLANDO Be wary of discounted, multiday theme-park tickets sold at shops on International Drive near Universal Studios or outside Disney World and the city of Kissimmee, says Detective Mike Atwood of the Orange County Sheriff's Office. Touts working for some shops wait outside the parks when they close and buy multiday passes from people who don't need them anymore. The shops then resell the tickets, which may have a couple of days left on them, to tourists at a reduced rate. The parks prohibit the reselling of passes, and attendants will turn you away if you're caught trying to use one.
PHILADELPHIA Take your GPS device with you when you park in tourist areas, such as around the Liberty Bell. Lieutenant Frank Vanore says thefts of the gadgets from cars rose dramatically in the first four months of 2008 compared to the same period last year. Don't leave even a trace of a GPS unit in your car --such as a stray cord coming out of the glove compartment or the imprint of a suction cup on the windshield. "Take a couple of minutes and completely wipe down the window," says Vanore.
WASHINGTON, D.C. Police launched a campaign this year to remind people to lock their car doors at gas stations -- thefts of items from unattended cars at stations went up nearly fivefold from 2006 to 2007. There has also been a steep rise in robberies of iPods and cell phones on the Metro, with criminals simply snatching the devices out of the hands of distracted passengers. Police advise riders to consider not using the white Apple earphones, because the color is a dead giveaway for iPods. "The last thing you want to do is make it easy for the bad guys," says Officer Josue Aldiva.
E-mail to a friend

Get the best travel deals and tips emailed to you and enter to win a free trip - CLICK HERE!
Copyright © 2009 Newsweek Budget Travel, Inc., all rights reserved.
All About Travel Destinations • Travel and Tourism