By Alison Rohrs
(Budget Travel) -- The American Museum of Natural History opened New York City's first synthetic ice-skating facility, the Polar Rink, in November on its outdoor terrace.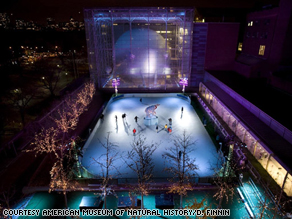 The rink at the American Museum of Natural History is made of a plastic surface engineered to match the density of frozen water.
The eco-friendly rink reminds visitors about the effects of global warming with a 17-foot glowing polar bear centerpiece. Its "ice" is actually a plastic surface engineered to match the density of frozen water. Every morning, a light spray lubricates the surface for skaters.
Thanks to the clever new material, the museum doesn't devour enormous amounts of energy the way traditional ice skating rinks do. It also doesn't need to spend money on Zamboni cleanings. The "ice" isn't biodegradable, but the museum can re-use the same sheets for several years, and then recycle the plastic.
But can plastic skating still mean good fun? I went for a whirl to find out.
Lined with twinkling trees and awash in cool blue floodlights, the terrace felt like a winter wonderland. And the museum's other-worldly planetarium seemed appropriate, looming in the background.
When I stepped onto the strange material in the rink, I quickly learned two things: First, synthetic ice is harder to skate on. Second, it's softer when you fall.
It took a lot of leg strength to push myself a few inches, and I couldn't dig my blades in to get a stronger push. To be fair, I've never been the most graceful skater, but looking around, I noticed that no one else was either. Even experienced skaters felt their skills tested.
Falling wasn't a problem, though. The surface isn't wet or cold, and it has more bounce than ice. Plus, every wobbly skater had plenty of room to spread out: The 150-foot by 80-foot rink can accommodate up to 200 people in each one-hour session, but when I got there at 6 p.m. on a Sunday night, there were no more than 20 people on the ice. Another 15 or so spectators guarded shoes on the sidelines. (There are no lockers available, so pack lightly or bring a designated bag-watcher.)
One group that seemed to love the faux-ice were children, who happily shimmied around the edges. A pair of laughing kids crawled around the center on their hands and knees pretending to be polar bears, something that would be too cold to do on real ice.
I was happy to watch them from the adjacent snack shop, which serves rich hot chocolate ($3.25) and candy, small sandwiches, and pastries. It's a cozy place to take in the picturesque scene -- and to rest your quads.
If you go ...

The rink on the Arthur Ross Terrace at the American Museum of Natural History is open until February 28, 2008. Enter at 79th St. at Columbus Ave.
$10 per person per hour includes skate rental. (Children $8, seniors/students $9.) Sessions start on the hour.
If you prefer a traditional ice-skating experience, note that South Street Seaport has an 8,000-square-foot rink (with real ice). Details at http://www.thenewseaport.com/icerink
E-mail to a friend

Get the best travel deals and tips emailed to you FREE - CLICK HERE!
Copyright © 2008 Newsweek Budget Travel, Inc., all rights reserved.
All About Travel and Tourism