By Ivy Manning
(Sunset) -- The old warehouses of Portland's Pearl District are home to increasingly cool cultural diversions. Spend a weekend browsing the neighborhood's art galleries, snack on a pumpkin-pie cupcake and enjoy dinner and a show.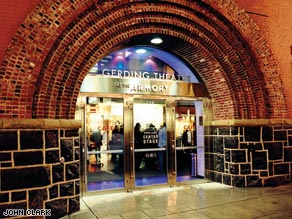 The Gerding Theater at the Armory has been transformed after its $36 million eco-renovation.
Take it home
If prices in the Pearl's posh galleries put a damper on your holiday gift giving, head to the Pacific Northwest College of Art for its annual student-art sale. Future famous artists sell surprisingly sophisticated gifts reflecting their fields of study: one-of-a-kind monotypes and screen-printed cards, jewelry with semiprecious stones, gorgeous oil paintings and thought-provoking metal sculptures.
Catch a show
The once-vacant, castlelike Gerding Theater at the Armory has been transformed after its $36 million eco-renovation. For people-watching, sip wine in the loft overlooking the lobby, then settle in for Portland Center Stage's one-man play "R. Buckminster Fuller: The History (and Mystery) of the Universe." Sunset.com: Life in the Pearl
If you go ...
Backdrop: Old warehouses turned bare-brick galleries tucked between million-dollar high-rise condos.
Shot of caffeine: A creamy-smooth latte from Caffè Umbria.
Room to browse at Powell's Books: Pearl Room for thousands of art and photography tomes.
Après-theater cocktail: The Vertigo -- made with six-year-old rye and a flaming orange peel at Teardrop Lounge.
Stay overnight: Theater packages at the nearby Mark Spencer Hotel include a one-night stay, two tickets to Portland Center Stage, parking, breakfast and afternoon tea.
One-stop gallery hop
Who cares if it's raining when you have the DeSoto Building/Museum of Contemporary Craft -- four fine art galleries and an innovative museum under one roof? Hit the museum's Holiday Shoppe (December 3-January 4) for funky felt rings and handcrafted ornaments.
Great Pearl eats
Wild rice-smoked duck breast is steps from the Gerding Theater at Ten 01. Or try Isabel; we like the brown rice and tofu bowl with peanut sauce. Then there's 50 Plates, a casual bistro serving all-American classics. Sunset.com: Green in Portland
A twist on pumpkin pie
Warm up for T-Day with a luscious pumpkin pie cupcake filled with pumpkin cream at Cupcake Jones, a grab-and-go bakery. (Then place your order for Thanksgiving dessert.)
WANT MORE ENTERTAINMENT? (Portland's got it)
For budding theater buffs
Kids will eat up the juicy Oregon Children's Theatre production of Roald Dahl's classic "James and the Giant Peach," while you'll get a kick out of the high-flying special effects and dry humor.
For small-stage premieres
See classics and local playwrights' works on one of Artists Repertory Theatre's two intimate stages. Get some comic relief during the hectic holidays with Marc Acito and C.S. Witcomb's "Holidazed," a humorous look at modern families coping with old-fashioned Christmas traditions.
For indie-film fans
The Northwest Film Center presents themed series, retrospectives and annual film festivals. The Portland International Film Festival, held in February, features nearly 100 films from more than 30 countries.
E-mail to a friend

Enter to win a monthly Room Makeover Giveaway from MyHomeIdeas.com
Copyright 2004-2009 Sunset magazine. All rights reserved.
All About Travel Destinations • Travel and Tourism