By Cassandra M. Vanhooser
(Southern Living) -- Puddles of moonlight on a glassy, smooth harbor. Fresh shrimp coupled with stone-ground grits. Palmettos dancing in an ocean breeze. I fell in love with these things on my very first visit to Charleston, that oh-so-Southern belle perched happily on the coast of South Carolina. Even now, memories of that long-ago trip bring an unbidden smile.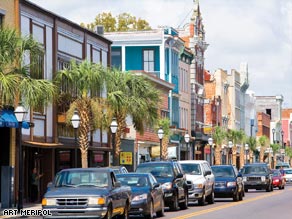 Upper King Street is lined with stylish shops and restaurants.
Though I'm a wanderer by nature, I continue to return to my first love. While it's certain that some things about this city never change, like a true lady, Charleston likes to keep us guessing. Just when I think I know all her secrets, I notice little additions and shifts that make her more enticing than ever.
Check out some of the surprises I found on my last visit.
Water, water everywhere
This city sits at the junction of the Ashley and Cooper Rivers where the two come together to form Charleston Harbor. Dozens of outfitters will see to it that you take advantage of the city's watery assets. You can kayak the marshes, charter a deep-sea fishing boat, or board a water taxi headed for Patriots Point. But for sheer beauty and relaxation, we favor a sunset tour of the harbor aboard the schooner Pride.
This three-masted tall ship resembles the sailing vessels that once traded up and down the coast. When the sails go up, the Pride rocks across the water, with dolphins and seagulls often trailing in her wake. The two-hour tour offers spectacular views of the Cooper River Bridge, Rainbow Row and Fort Sumter. Editors' City Guide: Charleston, South Carolina
The Pride docks at the Aquarium Wharf at 360 Concord Street. Tours during the day cost $27 per person, with sunset ones priced at $34. Reservations are highly recommended. Visit www.schoonerpride.com, or call 1-800-344-4483 or (843) 722-1112.
A million-dollar view
If you're standing at the corner of East Bay and Market around happy hour, look up. You're sure to spy a merry crowd at the Pavilion Bar on top of the Market Pavilion Hotel. Even if you don't choose to stay at this pricey boutique property, stop by for appetizers and drinks.
The lovely rooftop bar features umbrella-covered tables, quick and courteous service, and an amazing view. Look east, and you'll see the Cooper River and North America's longest cable-stayed bridge. To the west, you'll see Charleston's steepled skyline and a gorgeous sunset.
10 must-do activities
1. Take a carriage ride.
2. Stroll through The Battery park.
3. Explore City Market.
4. Eat shrimp and grits. We love Hominy Grill for a homey taste or Anson for
something a bit more upscale.
5. Walk or bike over the Cooper River Bridge.
6. Tour at least one of the Ashley River plantations.
7. Be a beach bum. Try Sullivan's Island or Folly Beach.
8. Admire the architecture. The Preservation Society hosts its fall homes
and gardens tours from September 25-October 26.
9. Learn military history at Patriots Point.
10. Eat dessert. We love the coconut cake at Peninsula Grill.


Shopping Upper King

Shoppers have long been seduced by the wares of Charleston's merchants, with the crème de la crème located on King Street. But these days, the spotlight is on Upper King, that section of the thoroughfare marked by Spring Street to the north and Calhoun to the south.

"Upper King is really the heart of Charleston right now," says Susan Lucas, owner of The French Hare. "It's very sophisticated. We think of it as the SoHo of the South."

More than 75 neighborhood merchants -- including some of the country's top home-accessories retailers and interior designers -- recently banded together to form the new Upper King Design District. They're a tight-knit group, says Lucas, committed to offering the best products and customer service. It's impossible to list them all, but Lesesne, B'ZAR, Dwelling, Maine Cottage and Cupcake rank among our favorites.

To see a complete list of shops, restaurants and arts groups, visit www.upperkingdesigndistrict.com, or call (843) 303-1113. For an extra special treat, plan to be in town on the third Thursday in October this year for the Upper King Design Walk.

Tour with your taste buds

You've taken a carriage ride. You've done the ghost tour. Now head to the new Upper King Design District. Now head to Charleston Cooks!, a wonderful kitchen shop on East Bay Street, for a Lowcountry cooking class.

"Charleston has a unique cuisine, with all its history and culture," says culinary director Danielle Wecksler. "We wanted to give people a little bite of what we experience here every day. That's how this class was born."

The store offers its demonstration-style Taste of the Lowcountry classes several afternoons a week at 2 p.m. Though the menu changes daily, you'll sample such dishes as blackened pork tenderloin, gumbo, lemon-broccoli pirlau and bourbon pecan pie. The $25 admission fee includes a three-course tasting, so eat sparingly before you go.

Be sure to save time for some shopping at Charleston Cooks! too. Participants get a same-day 10 percent discount on merchandise or future classes. For a complete schedule of cooking classes and special events, visit www.mavericksouthernkitchens.com, or call (843) 722-1212. In addition to several ongoing educational series, special appearances by top chefs such as cookbook author James Peterson, Italy's Giuliano Hazan and TV host Marvin Woods are scheduled throughout the year.

Galleries galore

It seems as if there's an art gallery on every corner in this fair city. Even if you're not a collector or you have no intention of taking home a painting, stop anyway. Soak up the colors. Ask questions, and quite simply, enjoy the view.

Celebrated painter West Fraser, whose work is featured at Helena Fox Fine Art on Queen Street, says artists here are driven to capture the city's authenticity and character. "It still takes my breath away sometimes when you get that late afternoon golden light coming through the narrow streets and hitting the corner of a building or the top of a steeple," he muses. "It's just a beautiful city."

The number of galleries continues to grow, with many of the finest located on Broad Street and in the historic French Quarter. If you're lucky enough to be in town the first weekend of the month, plan to attend a First Friday Art Walk. From 5 to 8 p.m., many gallery owners serve food and wine, making art a party. More galleries participate in peak months -- March-June, October and December. Pick up a brochure at a participating gallery, or visit www.charlestongalleryrow.com and www.frenchquarterarts.com for more information.

Love the locals

Buying seasonal produce from local growers is much in the news these days, and the so-called Slow Food Movement has come to Charleston too. Not that it ever truly left. Fresh-from-the-water seafood has always formed the cornerstone for the city's Lowcountry fare, but homegrown produce and meat products were impossible to find on menus.

All that's changing, thanks in large part to Mike Lata of FIG (Food Is Good) Restaurant. Virtually no one was using local growers when he arrived here in 1998. "It took awhile for some of the chefs to get onboard," he admits. "Now I see it as part of the fabric of our cuisine here in Charleston. My peers inspire me daily with how they are buying locally and cooking locally."

Word of mouth is still the best way to find restaurants that feature a fresh, seasonal approach. Peruse online menus, Mike says, or ask your concierge. Then feel free to quiz your server about where your fish was caught or where your greens were grown. You'll satisfy your hunger to support the local economy and get a great meal too.

E-mail to a friend

Enter to win a monthly Room Makeover Giveaway from MyHomeIdeas.com
Copyright 2009 Southern Living magazine. All rights reserved.
All About Travel Destinations • Travel and Tourism