By Gisela Williams
(Budget Travel) -- Drive south from Tangier along the Moroccan coast to the port town of Asilah and here's what you'll see on the 30-mile journey: fields of deep-purple and mustard-yellow wildflowers, wide stretches of pristine beach and cement trucks idling in front of the occasional makeshift construction site. It doesn't take a fortune teller to predict that, in a few years, this dramatic coastline will be the next French Riviera.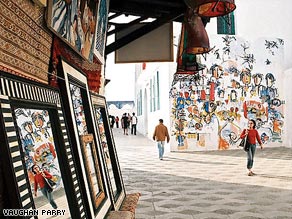 Colorful murals in Asilah
Behind the 15th-century walls that surround Asilah, children chase each other through the car-free alleyways, past homes decorated with murals by artists from Egypt, Italy, Japan and the U.S. This isn't a scene you'd expect to find in a town that was on the verge of collapse not too long ago.
Founded by the Phoenicians around 1500 B.C., Asilah was a prosperous trading post until a group of pirates ransacked the place, turning it into a hideout in the early 1900s. The town suffered decades of decline and had fallen into disrepair by the time Mohamed Benaïssa was elected mayor in 1983.
With some funding from Prince Bandar bin Sultan of Saudi Arabia and other investors -- it always helps to have wealthy friends -- Benaïssa cleaned up Asilah, restoring many of its historic buildings, including the Raissouni Palace (rue Ahmed el Mansour and rue Ben Marzouck, from $7), now a concert hall, and the Al-Kamra Tower citadel (place Abdellah Guennoun, free) in the medina.
He also built the Hassan II International Meeting Center (place Abdellah Guennoun, 011-212/39-417-065, free), a gallery and theater, and started the Asilah Arts & Culture Forum (011-212/39-418-729, c-assilah.com, from $7). The summer arts festival hosts more than 100,000 visitors -- some of whom are now buying or building second homes up and down Asilah's undeveloped coastline.
The off-season in Asilah, between November and March, is much more laid-back. Each day begins like the last: Muezzins signal the call for prayer from the minarets of several mosques around town, while families gather for breakfast on rooftop terraces.
Hotels aren't allowed inside the rampart walls, so renting a private house is often the best option. There are more than 40 rentals available through Homelidays, such as Dar Malak, a three-bedroom waterfront house with stained-glass windows and an electric-blue terrace.
In the center of the medina, American expat Edward Brown's spacious three-bedroom house, Dar es Salam, is staffed by an English-speaking housekeeper who'll cook traditional meals for guests. "I've been all over Morocco, but I chose Asilah because the town has an innocence you won't find elsewhere," Brown says. "The people are kind and friendly, and there's an authentic cozy-village-by-the-sea ambience."
As in most towns in northern Africa, life revolves around the medina. Asilah's is a bit of a maze, but it's too small to really get lost in -- one street will eventually lead you to where you need to go. The shops sell everything from antique turquoise-and-coral jewelry to handwoven Berber rugs.
At Candela (rue Sidi M Barek), sparkly leather slippers for men and women are stacked precariously next to candles carved with Arabic phrases and letters. Near the northern end of the medina, Bazar Atlas (rue Tijara), owned by Bachir el Gaabouri for almost 15 years, stocks hand-painted ceramics, such as individual couscous serving bowls and tagines of all shapes and sizes.
When it comes to eating out, there aren't too many options in Asilah. Two excellent seafood restaurants are just outside the medina. People have been known to drive all the way from Tangier to Casa Garcia (rue Moulay Hassan Ben el Mehdi, 011-212/39-417-465, fish plate $18) for the mixed-fish platter, which includes whitefish, swordfish, crispy sardines, squid and king prawns.
At the two-story Restaurante Oceano Casa Pepe (place Zalaka, 011-212/39-417-395, from $11), with a terrace that overlooks the garden, the tapas-size fish dishes come with a stack of fresh tortillas. Both restaurants can get busy on the weekends, so you're smart to make reservations a couple of days in advance.
Part of the beauty of Asilah is that there really isn't all that much to do, which is just fine with the locals. People-watching at Cafe Al Madina (place Abdellah Guennoun), a coffeehouse with outdoor seating on the main square in the medina, is one popular way to while away an afternoon over café con leche. Another is to stroll along the endless beach, usually empty except for the occasional group of kids playing soccer on the sand. If you start walking early in the morning, you can make it all the way to Tangier.
E-mail to a friend

Get the best travel deals and tips emailed to you FREE - CLICK HERE!
Copyright © 2009 Newsweek Budget Travel, Inc., all rights reserved.
Note: This story was accurate when it was published. Please be sure to confirm all rates and details directly with the companies in question before planning your trip.