By Marnie Hunter
CNN

STEAMBOAT SPRINGS, Colorado (CNN) -- After huffing and puffing uphill past luminous Aspen groves and delicate wildflowers for more than an hour, we expected a big reward: a sweeping view of Steamboat Springs, an imposing waterfall, a cold beer -- something.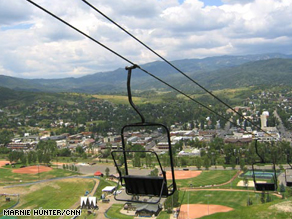 The surrounding slopes provide great views of Steamboat Springs and the Yampa River Valley.
The footbridge, which we'd identified as our final destination, spanned an underwhelming gurgle. Still, we snapped the obligatory photos, congratulated ourselves on surviving a 2,000-foot elevation gain and turned around for the much easier journey down.
A 70-something man hiking up with his wife set us straight. Our lukewarm response to his "How were the falls?" query tipped him off to our mistake: Fish Creek's upper falls were another 20 minutes past the bridge. Gasp.
About face. Huff, puff. Stony silence laced with "glass half-full" mutterings from my friend Lexi. And me wondering if we were too far out of our comfort zones to keep ourselves entertained and uninjured for five days in northern Colorado.
This summer wilderness adventure was my idea. A foray into outdoorsiness -- three days in Steamboat Springs hiking, biking and horseback riding, a drive and hike in rugged Rocky Mountain National Park and a day in Boulder. It would be a break from our home bases in Atlanta and D.C. and the usual East Coast vacations.
Gasp. This time we were responding to the view over spiky evergreens to the valley and the historic mining and ranching town of Steamboat Springs, sleepy this time of year without the bustle of skiers. Shushing water drew us around another few bends in the trail, and there it was -- a lovely waterfall and an icy foot bath instead of a cold beer.
It was a peaceful spot about 9,500 feet above sea level. Not bad -- considering we almost made the climb without the reward.
Our Rocky Mountain debut a couple days earlier had been rough. We ran into a deer along U.S. 40 as we made our way into town in the dark. We hoped the deer made out at least as well as the banged-up rental car.
We had a few bumper and fender issues to contend with that first morning, but the sun shone brightly in the afternoon and we decided to get back in the saddle, literally.
Don't Miss
Saddleback Ranch, an 8,000-acre working cattle ranch 15 miles west of Steamboat Springs, offers a range of rides. We opted against the four-hour morning cattle drive in favor of the two-hour photo opportunity ride. (Lexi had dude-ranch experience, but I hadn't added anything to my equestrian resume since the mid-'80s). If you go: Plan your trip to northern Colorado
Luanna Iacovetto, a grandmother whose grown sons are fourth-generation ranchers, led the ride along wide dirt trails carved into the sides of rolling hills and along ridges with views of the Flat Tops, Mount Werner and the Zirkles. Traces of snow still lingered on some peaks in mid-July. Dressed in jeans, a button-down shirt and a cowboy hat, Iacovetto peppered the group with rancher humor. "We don't charge anything extra for the trail dust you'll eat," she quipped.
The ranch has been hosting visitor activities since the Iacovettos got the idea from watching the 1991 movie "City Slickers," starring Billy Crystal as a stressed-out city dweller who gets away with two friends for a cattle driving trip out West.
I felt like a city slicker on El Caballito, my "little horse." With one hand white-knuckling the saddle horn and the other gripping the camera, I tried to seize as many photo opportunities as possible without tumbling off El Caballito onto my sporty visor-clad head. Fortunately, my little horse was more confident on the trails than I was, and we all made it back to the barn without incident.
It was time for a pre-emptive strike against the soreness we were expecting the following morning. We put our plan into action after dinner, watching intently for wildlife in our path as we drove deep into the woods along an unpaved road for a dip in steaming Strawberry Park Hot Springs.
Located about seven miles from downtown Steamboat, the facility is made up of a series of handmade masonry pools tucked into the natural landscape. The hot spring water is blended with cool creek water to fill the two large hot pools, the hottest of which is kept at around 104 degrees Fahrenheit. Massage treatments are offered in rustic cottages on the property.
We parked our strained muscles in the hot pools for some intriguing people-watching. A variety of fellow tourists pool-hopped with an occasional dip in the large cold creek water pool. Some of the bathers -- like the man in the string bikini bottoms "reading" and people-watching as the light dwindled -- appeared to be regular spring soakers. After dark, the facility is adults only and clothing is optional, but we didn't hang around to see who opted out.
Feeling pretty comfortable with the mountain life by now, we ticked off another handful of outdoor activities before riding out of town toward Rocky Mountain National Park. In the park we upped the scenery and wildlife quotient of our trip with marmot and elk sightings on the Alpine tundra against a backdrop of rocky and snowy peaks.
By the time we made it to Boulder after another high-elevation hike, we were ready to retire our hiking shoes for the remainder of the trip. Instead we opted for a tasting tour of local Avery Brewing Co.
Cold beer at last. Here's to a successful Rocky Mountain adventure.
E-mail to a friend

All About Boulder (Colorado) • Colorado • Travel Destinations