By Kim Cross
(Southern Living) -- Nibble your way through Charlotte, North Carolina, and you'll taste the New South. Shining on the Piedmont with a modern skyline and brimming with emerging restaurants, this is a city that savors the fresh and the new.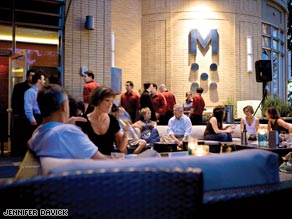 The outdoor patio at M5, a popular spot in SouthPark
Charlotte's emergence on the food radar -- a recent and welcome debut -- combines fascinating ingredients: a surging urban renaissance, support from the country's No. 2 banking town, and fresh talent from the newest campus of Johnson & Wales University. This well-respected culinary school's 2004 relocation from Charleston, South Carolina, cemented Charlotte's position as the South's new food city.
The restaurant revolution
You may remember Charlotte as a steak-and-potatoes place, home of the country club rib eye. That was before the banking boom brought an international workforce and a diverse market hungry for fine dining. Sophisticated palates demanded more -- and got it.
Now the restaurant revolution is in full force. Take our neighborhood-by-neighborhood tasting tour.
The tasting tour
Uptown: Urban and upscale
Power lunches by day, buzzing nightlife after hours -- what a far cry from the old ghost town days. We trace Uptown's culinary comeback to the wood-fired fare, including Carolina quail and Niman Ranch pork chops, of Mimosa Grill. Two sister restaurants broadened the flavors. Arpa Wine Bar presents tapas and 50 wines by the glass. Zink American Kitchen provides drama with a background of silent black-and-white films and a showstopping chicken-fried calamari. Editors' City Guide: Charlotte, N.C.
On a budget?
Have a power lunch Uptown. Many upscale restaurants offer scaled-down lunch menus with lower prices.
Sonoma Modern blends a Slow Food philosophy, which focuses on local, organic, peak-season ingredients, with true culinary artistry. The tasting menu proved one of our most exquisitely memorable meals, each course an ode to local producers. The heirloom tomato salad was simple and unforgettable. The morning of our meal, at the Matthews Community Farmers Market, we met many of the farmers who grew each course.
Shadowed by new high-rise towers, Ratcliffe on The Green is a rare old gem. Tiffany windows and stained glass lamps lend a little mood lighting to this 1928 flower shop. The fare is organic, local, simple and honest: black truffle grits, baked heirloom squash, mousse-stuffed poulet rouge (a petite French chicken) dressed with tarragon the chef grew in his own garden.
SouthPark: Trendy and traditional
This is some of the hottest restaurant real estate in Charlotte. Primo example: The Dean & DeLuca Wine Room. (This is the only Dean & DeLuca wine bar in the U.S.) Neighboring Upstream boasts some of the best sushi and seafood (sake-marinated wild sea bass) in town.
A modern spin on Mediterranean, M5 is a scene to be seen, from its trendy outdoor lounge to the faux alligator tiles in the bathroom. We liked the seared sea scallop saltimbocca with shell beans and the grilled figs with prosciutto, mascarpone and Marcona almond salad.
Our favorite in SouthPark is Rooster's, a cozy bistro that feels oddly European and Southern. The best dishes are exquisitely simple -- fresh corn fried in a skillet with salted butter and pepper; Forbidden Rice (an heirloom variety that's purple when cooked), served thick and rich, risotto style; and whole chicken roasted in a wood-burning rotisserie. Rooster's is more affordable and casual than its upscale sister, Noble's, where food sees a fancier spin on pure basics. An old-fashioned dish of the South meets the South of France in a pork belly worthy of candlelight: melt-in-your-mouth creamy, simmered in a cassoulet (a slow-cooked bean stew).
Plaza Midwood, Elizabeth and more
Greg Auten, the tattooed owner of The Penguin, says his daddy taught him one truth about food: "Grease sells." That's the secret to his burgers (good enough to convert a vegetarian) and deep-fried pickles dipped in Ranch dressing.
We love this edgy, eclectic neighborhood, called Plaza Midwood. "Everybody lives here," says a resident. "You have the Penguin tattoo crowd, the normal girls, a few of the housewife Betty set. Everybody knows everybody."
They know where to eat too. Follow them to Dish for chicken and dumplings thick enough to eat with a fork and mind-bending vanilla-bourbon-sweet potato pie. Around the corner, there's the up-and-coming Elizabeth neighborhood's restaurant row, filled with charming spots such as NOFO on Liz, whose shrimp and grits and whimsical gift shop make a fun midday stop. Don't pass up Customshop, where the chef makes his own pasta (ricotta gnocchi with eggplant is a best-seller) and has a fisherman who fishes just for him. The seafood dinner entrées are popular, but we were impressed by the elegant brunch, especially the ethereal blueberry scones and French press coffee.
For a wonderfully fun sit-down lunch in South End, visit Mac's Speed Shop, a quasi-dive where the parking lot mixes bikes, Beemers and Bugs. Charlotte may not be a barbecue town, but Mac's beef brisket inspired photographer and "meat-atarian" Gary Clark to declare, "This is better'n any I've had in Texas." Actually, let Texas compare its fare to Charlotte -- after all, this is the South's new food city. Bring it on.
E-mail to a friend

Enter to win a monthly Room Makeover Giveaway from MyHomeIdeas.com
Copyright 2009 Southern Living magazine. All rights reserved.
All About Food and Cooking • Travel Destinations