LONDON, England (CNN) -- The sleepless nights, the woozy days and the foggy minds of jet lag are the bane of any business traveler's life.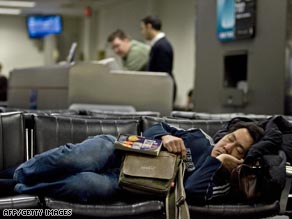 Jet lag causes both sleepiness and insomnia in long-distance travelers
But help may be on the way in the form of a new drug that has proved successful in resetting the body's natural sleep rhythms.
In two clinical trials, the drug tasimelteon helped volunteers whose sleep pattern had been delayed by five hours to fall asleep quicker and to sleep for longer.
The drug mimics the effects of melatonin. Melatonin is a naturally-occurring hormone in humans that regulates the circadian rhythm, or the natural human clock, that is partly controlled by daylight.
When the circadian rhythm is disrupted -- by traveling across time zones or disrupting sleep during shift work -- the most common symptoms are insomnia when trying to sleep and excessive sleepiness while trying to remain awake. This is due to the inability of the body to cope with conflicting time signals.
Melatonin improves the quality of sleep and dulls the awakening signal in the body clock.
The studies on tasimelteon were undertaken by researchers from Brigham and Women's Hospital, Boston, USA and Monash University, Australia.
They conducted two trials with 450 volunteers whose sleep patterns had been disturbed by keeping them awake for five hours longer -- usually the time difference between New York and London.
They compared the sleep patterns of people who had been given different dosages of the drug 30 minutes before sleep and those who had been given a placebo.
In both studies, tasimelteon reduced the amount of time it took for them to fall asleep, and increased the amount of time they spent asleep.
Commenting on the results of the trial, published in medical journal The Lancet this week, Daniel Cardinali, from the University of Buenos Aires and Diego Golombek from the National University of Quilmes, Buenos Aires, said the results would be welcomed by "shift workers, airline crew, tourists and football teams."
They added that the drug could be an alternative to addictive sleep therapies such as benzodiazepines. Melatonin-like drugs only exert a "modest sleep-promoting effect." Instead, they wrote, "they amplify day-night differences in alertness and sleep quality." What are your tips for overcoming jet lag? Sound off below.
Melatonin products are already available over the counter in the USA, the researchers pointed out in The Lancet. But they are not recommended because their potency, purity, and safety are not regulated by the US Food and Drug Administration.
The study was funded by Vanda Pharmaceuticals which makes tasimelteon. If approved, the drug could be on the market within three years.
In the meantime, experts say there are natural ways business travelers can combat the effects of jet lag. Here are some to keep in mind before you travel.
Experts' tips for combating jet lag
Avoid late meals and alcohol
Take cat-naps when you need to
Adjust to your destination as soon as you get on the plane
Eat on local time
Get a good night's sleep before you travel
Go for walks in daytime and get plenty of sunlight
Try to sleep at take-off when gravitational forces and a shortage of fresh oxygen make ideal conditions for dozing off
A break in a long flight can help
Noise-cancellation headphones can block out noise and help you sleep on planes
What are your tips for overcoming jet lag? Sound off below.
E-mail to a friend